MacGill is about to start and has , for many years, been my favourite Irish Summer School 
http://www.macgillsummerschool.com/
The MacGill summer school  will be broadcast live ~ the theme this year is 'the future of Ireland in a new Europe". I remember listening to the previous ambassador to Britain  (Dáithí Ó Ceallaigh) speaking on the " unthinkable", which has since come to pass !. Dáithí spoke of "Britain might sleepwalk out of Europe"
~~~~~~~~~~~~~~~~~~~~~~~~~
The Irish Times heralds people to  Northampton, in its Bloomsday 2018 edition

.
Cormac Molumby Photographer 
As  you may know An Irishman's Diary is one of the most popular features in the Irish Times – print and on line . On Bloomsday June 16th it said  "So for an hour at least, Lucia Joyce will be surrounded by her father's people, although her permanent neighbours in Kingsthorpe Cemetery also include the Irish writer Donall  MacAmhlaigh and Violet Gibson , a Dubliner who shared her incarceration for a time in St. Andrew's  Psychiatric Hospital ,after an attempt to shoot Benito Mussolini"
Peter Mulligan (Organisor ) introducing the event 
An appreciative audience enjoyed what Ruaidhri Dowling (Irish Embassy ) called "An impressive performance of a new play 'Letters to Lucia' "

In the unique setting of the cemetery where Lucia is buried, her friends and family express thoughts and feelings they perhaps wished they could have articulated during Lucia's lifetime, but for various reasons did not.
From an original idea by Richard Rose, the drama was developed in collaboration with playwright James Vollmar and the Triskellion  Irish Theatre Company. Cast of James Joyce, Nora Barnacle, Samuel Beckett, Frank Budgen, and Kathleen Neel.

Edna O'Brien writes Bloomsday Greeting
~~~~~~~~~~~~~~~~~~~
A history of the Irish Dancing 'at home ' and in the clubs of Emigrant London . (free to read on line) 
Maurice O'Connell Irish Dance History in London . Gerry Molumby
London Irish Dancer Maurice O'Connell's Ireland and World Champion  medals .
Different days…. but he was the Michael Flatley of his time worldwide .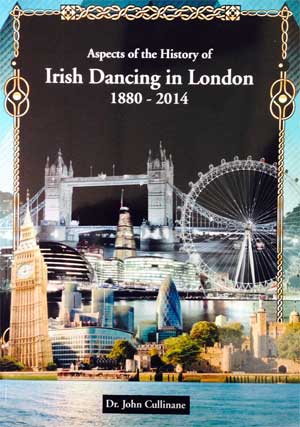 Patrick O'Connell OBE (son of Maurice O'Connell) with  John Cullinane,an authority on Irish Dancing 'at home and abroad'  attended  the  Worldwide Irish  Dancing Championship's reception, Embassy of Ireland , London 2012.
~~~~~~~~~~~~
 ~~~~~~~~~~~~~~~
Vince has the power
Liverpool a city described by ex Taoiseach Enda Kenny " as the most Irish of British cities" are hosting a  brand new extraordinary annual event celebrating the best of Irish culture. Coming to the city on Saturday July 7th  , Vince and co are  bringing with them  some of the biggest names in contemporary and traditional Irish music .
The Feis (pronounced 'fesh') will be a multi-stage event taking place on the Liverpool Waterfront . Vince founded the famous Fleadh and Feis Festivals which ran for 21 years in London, Glasgow, New York, Boston, Chicago and San Francisco.
The line up for The Liverpool Feis has been well announced but still time to get tickets :
Buy Tickets here.
~~~~~~~~~~~~~~
If you are going to host an Irish Writers Summer School outside of Ireland ~ involve the locals. Tony Murray again sets the good example !
23rd IRISH WRITERS IN LONDON SUMMER SCHOOL
"It is obvious why the Summer School is now in its third decade. Where else would you get a chance to meet such a range of contemporary Irish writers to discuss their work? As well as being interesting and stimulating, it's always relaxed and a lot of fun."
First established in 1996, the Irish Writers in London Summer School runs for two nights a week for five and half weeks and provides an informal but informed setting for you to explore and discuss the work of Irish writers abroad, whether as migrants or descendants. 
Each Thursday evening a guest writer will read and discuss their work with you. Each Tuesday evening prior
 to this, you will share your reactions to the writer's work with fellow students and the course tutor. This unique format provides time for you to digest and exchange your views before meeting the author in question.
In addition, there will be illustrated lectures and optional visits to associated Irish cultural events in London.
N.B.
 The Irish Writers in London Summer School is not a creative writing course, but it provides an excellent complement to such a course of study at London Metropolitan University or elsewhere. It will suit anybody with an interest in contemporary writing. 
No prior qualifications are required to enrol.
Venue: London Metropolitan University, Tower Building, Holloway Road,
London N7
 (nearest tube: Holloway Road)
Days: 
Tuesdays and Thursdays with an additional class on Friday 13 July 
Times: 6.00 – 8.30pm (refreshments provided)
Fees: £156 – Concessionary and Early Bird (before 18 May).  £195 – Full Fee (after 18 May)
This year's guest writers:
Jess Kidd 

was brought up in London as part of a large family from county Mayo and has been praised for her unique fictional voice. Her first novel, Himself, was shortlisted for the Irish Book Awards 2016 and she was winner of the Costa Short Story Award in the same year. She is currently working on her third novel as well as writing for children and developing her own TV project. Jess joins us to read and discuss her second novel, The Hoarder, which came out earlier this year and is a 

spellbinding tale about two Irish people in London, one a lonely care-worker and the other a cranky widower with a house full of secrets. It has been described as 'a lyrical gothic detective saga' (The Guardian) and 'a brilliantly imaginative tale of secrets and lies, grief and guilt' (Daily Express).
Martin McNamara is a playwright and journalist. His documentary work has appeared on BBC Radio 4 and his first stage-play, The Magic Hour, a black comedy about an Irish family funeral, was produced at the Brockley Jack Theatre in Lewisham in 2013. Subsequent plays have been performed in London, Newcastle and Edinburgh and include Traitors Cads and Cowards, set in the military wing of Wandsworth Prison in 1916 and Your Ever Loving, based on the prison letters of Paul Hill of the Guildford Four. Martin will be talking about his recent play, Mosley Must Fall, which is set in London in October 1936 as fascists prepare to march through the Jewish and Irish ghettos of the East End.
Deirdre Shanahan was born to Irish parents from counties Mayo and Kerry. After spending part of her childhood in Kerry and part in Hertfordshire, she studied English at University College North Wales and now lives in London. Her short stories and poetry have been published in the USA, the UK and Ireland in journals such as The Southern Review, The Massachusetts Review and The Cimarron Review. Her work regularly appears in anthologies of British and Irish poetry and short stories. She has been recipient of the Eric Gregory Award and more recently the Lightship Novel Award for The Night Breathing which will be published by Bluemoose Books in 2019. Deirdre has appeared at the Summer School a number of times since its inception in 1996 and returns this year to discuss her recent fiction.
Judy O'Kane graduated in law from Trinity College Dublin and holds an MA in Life Writing from the University of East Anglia where she is completing a PhD in Creative and Critical Writing. She teaches at the Law Society of Ireland and her poetry and prose has been published in Landfall, The Manchester Review and the Irish Times. She has won the National Memory Day Prize, the Irish Post Prize and the Listowel Writers' Week Original Poem Prize. Judy joins us to read and discuss Thirst, a work-in-progress shortlisted for the Tony Lothian Award in 2016 for best proposal for an uncommissioned first biography. It has been described as "…a quest in many registers, and a celebration of the mystery of wine. Written with verve and insight, it's a very modern form of memoir, and one that leads its readers into many different worlds along the way."
Róisín Tierney was born in Dublin and after graduating in Psychology and Philosophy from UCD, taught for several years in Spain (Valladolid and Granada) and is now settled in London. Her pamphlet, Dream Endings (Rack Press) won the 2012 Michael Marks Pamphlet Award. Her debut collection, The Spanish-Italian Border (Arc 2014) includes Gone, which was highly commended in the 2014 Forward Prize. A later pamphlet, Five Poems, was published by Clutag Press in 2016. She has taught for the Poetry School and recently won 2nd prize in the 2017 Winchester Poetry Prize. Róisín appears at this year's Summer School to discuss a selection of her published and current poetry.
~~~~~~~~~~~
Is Colman Doyle Ireland's greatest press photographer?, I certainly emulate his standard and Michael D and John Hume speak him up in this Irish Film Institute  archived documentary  
This long-form documentary profiles veteran Irish photographer, Colman Doyle, who has documented almost every major historical event in Ireland over a 50 year period.
Directed by James Kelly, this insightful documentary explores Doyle's vast archive of photographs covering  the political, social and economic history of Ireland – both North and South – through the second half of the 20th Century.  The film follows Doyle as he returns to shoot photos of West Kerry, reconnects with his early work as a press photographer and takes an in-depth look at the work in his collection over the last few decades.
Colman won many awards throughout his career including PPAI Photographer of the Year, Four Masters, British Press Pictures of the Year and many more. The National Library of Ireland now house over 25,000 photos from his collection.
With kind permission of James Kelly.


~~~~~
Imelda May talks up being Irish in Britain.
Wide ranging interview with Marian Finucane on Saturday April 28th.
Imelda with John Nolan L  (Crawley Irish Festival) and  R Joe Killoughrey ( http://killoughery.eu/) Gerry Molumby Photographer.
2017
~~~~~~~~~~
~~~~~~~~~~~~~~~
Irish teacher from Derby is heading off  this summer to South Africa , to teach in one of the schools built by the team lead  by Niall Mellon ; an  Irish based African Humanitarian Charity. Fiona is asking for your support .
Dear all,
" As many of you are aware I have spent the last few summers volunteering at various sporting events around the world, this year I have opted to volunteer teach in South Africa with  the Irish charity Mellon Educate.
On July 21 I will arrive in Capetown to work for a fortnight on the townships in a secondary school,built by Mellon , where many pupils walk more than an hour to reach a building that has fewer facilities that we are used to on this side of the world.  Below  is a link to a video to show you what it is all about"
Every year, Mellon Educate organises their now renowned "building blitz" trip to Africa for volunteers from all over the world to travel and lend a helping hand building better infrastructure in poor African communities.
In conjunction with the South African government, they have  housed 125,000 local people in high grade permanent homes, replacing dilapidated shack living conditions. Since 2013, Mellon Educate has set about improving access to better standards of education in African townships.
To date, the charity has built 16 new schools and renovated many more, providing over 10,000 young children with a better chance at life. They are  building towards educational programmes throughout Africa that will benefit over 100,000 primary school kids.
"Now I come to the bit where I ask for your help . This all  costs money £3200 to be precise, the Irish business community have been generous in their support and many cheques have been received and banked. I have a fundraising page
"I ask you to consider donating to this worthy cause where many children will benefit and teachers will be offered skills for the future.. I will be truly appreciative of any offering.
I am hoping to take an extra suitcase packed with football shirts as during the learning breaks I plan to organise football matches so if you have any spare shirts forward them to me "
I thank you in advance and look out for further fundraising activities .
Fiona Molumby

~~~~~~~~~~~~
April 30th  1851 a census showed the population of Ireland to be 6,552,385, a decline of 20% since 1845 ,number of Irish in England & Wales increased by 79% in the past decade. 25% of Liverpool is now 'Irish', 18% of the people of Glasgow & Dundee are Irish-born or 6.7% of Scotland
Their St.Patrick's Day Parade 2018

opposite or below…depending if you are on smart phone or computer !
~~~~~~~~~~~~~~~~

Dubliner  Evie Hone designed the chapel window of Eton College. Watch the film story made prior to when colour photography was readily available 
The Irish Department of Foreign Affairs and Trade , also known as the Department of External Affairs, was one of the many state bodies in Ireland to commission films to be produced on its behalf. Often partnering with the National Film institute (now the IFI) they generally made films on subjects considered to be culturally worthy and educationally important. The Cultural Relations Committee, a group within the department responsible for promoting Irish arts & culture abroad, commissioned much of the output, and films such as 'A Nation Once Again' (1946) 'W.B. Yeats: A Tribute' (1950) and Liam O'Leary's 'Portrait of Dublin' (1952) are representative of the type of historical and informative topics generally featured. A noteworthy example of more controversial and political subject matter is 'Fintona – A study of Housing Discrimination' which looks at anti-Catholic housing discrimination in Northern Ireland.

~~~~~~~~~~~~~~~~~~~~~~~~~~~
Never mind the moving statues…Dublin's statues now speak to you.
~ all you need to do is have your smart phone and the the statue will call you back ~ Now that's what I call a promise !
 
Dublin . Gerry Molumby Photographer 
~~~~~~~~~~~~~
~~~~~~~~~~~~~
Cormac's Chapel recently restored to the splendour of its Hiberno-Romanesque architecture.

On the southern side of the summit of the Rock of Cashel in Co. Tipperary is the church built as a Royal chapel by Cormac McCarthy, king of Munster between 1127 and 1134. The church has a number of Romanesque features such as paired towers, blind arcades and recessed arched doorways, rib-vaulting and decorative motifs such as chevrons, pellets and rosettes. The chapel is a cruciform nave and chancel church with two towers and a small rectangular recess running off the chancel to the east. A doorway of two orders gives access to the north tower from the nave, and a smaller round-headed doorway leads to the spiral staircase in the south tower. The nave has a barrel vault and above this there is a bee-hive vaulted chamber formerly of two-storeys, known as the croft.
The north and south walls of the church are decorated with blind arcades.  Frescos that cover the walls and ribs of the chancel have been restored to reveal two layers of painting. The frescos include geometric and floral motifs as well as figurative scenes including the baptism of Christ and possibly Solomon and the Queen of Sheba with the temple of Jerusalem. Externally the church has blind arcades and engaged half-columns. The smaller south tower has the belfry. The larger north tower has a pyramidal stone roof. In the thirteenth century the cathedral of Cashel was built against the north tower of the chapel and incorporates its west gable.
Cormac's Chapel, Gerry Molumby Photographer February 21st 2018
~~~~~~~~~~~~~~~~~~
~~~~~~~~~~~~~~~
President Higgins affirms Mná na hÉireann at home and abroad at London's  inaugural Lá Fhéile Bríde
Ambassador Adrian O'Neill hosted his vision of the enormous contribution and talent of Irish women in such diverse fields as music, film, comedy, architecture, poetry, literature, fashion, art, theatre, craft, business and entrepreneurship, science and technology. The 'surprise' guests of honour  was  President Michael D. Higgins and Sabina Higgins .Pauline McGlynn went into 'Mrs Doyle mode' as she tried to contain her excitement ,which was picked up and added to by all who attended ,with a palpable joy of being with, for the afternoon and evening , Uachtarán na hÉireann.
Camille O'Sullivan entertained with her uniquely-talented voice 'to tell a song'.

Sebina Higgins attends the workshop on Irish Women in Science and Technology
Fiona Mitchell chairs the workshop on Women in Political Journalism attended by President Higgins and Ambassador O'Neill
~~~~~~~~~~~~~~~
Gerry Molumby's picture wins place in New York  photographic exhibition
Aptly titled Give me your poor, your tired, your huddled masses , the picture was taken in  August 2012  while Gerry  and family visited New York on route to stay with his brother John ,permanently living in California.
The exhibition will be hosted by Aisling Irish Community and Cultural Centre (990 McLean Ave, Yonkers, NY 1070). Out of nearly 1000 submissions , the exhibition will host 50, there will be a further 12 finalists to be included in their 2018 calendar. The only thing that 'gives the picture away' from being circa 1890 are the modern day cranes in the centre.
Gerry said " having just seen some of the other exhibition pictures there is an obvious high standard. Like most people I take scenic pictures but that day in New York harbour this sailing tourist ship came into view and I was reminded of all the Irish Emigrants who entered USA via  Ellis Island. The narrative by Emma Lazarus came to mind "
Give me your tired, your poor,
Your huddled masses yearning to breathe free,
The wretched refuse of your teeming shore.
Send these, the homeless, tempest-tost to me,
I lift my lamp beside the golden door!
"Then I knew I did not just  have a picture ,but a story "
~~~~~~~~~~~~~
Your Irish Passport is a work of art, let's look at it again.
~ and a Lancashire born Irish poet chosen to have her verse included …. ~
Story and pictures Gerry Molumby
At the Global Irish Civic Forum in  Dublin (May  2017) there was a wonderful presentation on the work that went in to the renewal of the Irish Passport , incorporating  the latest  security technology, but also making it  a piece of Irish art. So from notes and further research I have been on a voyage of discovery….come along with me. The first thing you will notice are the illustrations of Gaelic Sports and Music along with landmarks such as Croagh Patrick, Kylemore Abbey, Croke Park, the Cliffs of Moher and my native Rock of Cashel, which adorn the pages with the Brian Buru harp being the rightly expected watermark on each page.
Picture 1: Brian Buru harp being the rightly expected watermark on each page.
At the conference I was alerted to the inclusion, throughout the pages, to the full music score of Amhrán na bhFiann, the full text of Article 2 of the Irish Constitution, which appears alternately in Irish and in English.
It is the entitlement and birthright of every person born in the island of Ireland, which includes its islands and seas, to be part of the Irish Nation. That is also the entitlement of all persons otherwise qualified in accordance with law to be citizens of Ireland. Furthermore, the Irish nation cherishes its special affinity with people of Irish ancestry living abroad who share its cultural identity and heritage.
The written and spoken word is fully included with verses by William Butler Yeats and James Orr and Nuala Ní Dhomhnaíll.   Born in Lancashire, England in 1952, of Irish parents, Nuala moved to Ireland at the age of five, and was brought up in the Dingle Gaeltacht and in Nenagh, County Tipperary. A couple of Ní Dhomhnaíll's lines written in Irish on page six are  –  Labhrann gach cuinne den leathinis seo liom ina teanga feinig, teanga a thuigim  – loosely translated and with a nod towards the Irish abroad to mean –  every corner of the land speaks to us.
Dedicated to the Irish language Nuala writes poetry exclusively in Irish and is quoted as saying "Irish is a language of beauty, historical significance, ancient roots and an immense propensity for poetic expression through its everyday use", she currently lives near Dublin with her husband and four children and is a regular broadcaster on Irish radio and television.
Picture 2:On left the  Verse by Nuala Ní Dhomhnaíll. Note the Bird Knot, (centre of left page) the intricate nature of these original designs makes replication very difficult. Note the seed in the bird's beak to represent the 'scattering' of the Irish Abroad and part of the score from the national anthem on top left of each page in the passport.
Picture 3. The River Gods as seen under the Liffey Bridge are seen in all their glory when you bend two pages into each other.
Note also the Ogham characters (on lower left of the picture above) are printed in thermo-chromic ink, i.e. the colour of the character changes when heat is applied. The individual Ogham character and a hand drawn trace of a tree leaf, also lights up under ultra-violet inspection. Printed with shifting ink Spark technology, the image shimmers in the light. This is the first time this technology was used on an international travel document.
Ogham is an Early Medieval alphabet used to write the early Irish language. There are a number of surviving orthodox inscriptions on stone monuments throughout Ireland, mostly in southern Munster.
Picture 5. Newgrange Entrance Stone image. Again this is printed with shifting ink Spark technology behind the front page and as  with the Ogham the image shimmers in the light.
"Be advised, my passport's green" Seamus Heaney
~~~~~~~~~
What is the best piece of Irish Music ?
For me it is Eleanor Plunkett, by composer Turlough O'Carolan (1670–1738).
Here are my favourite versions ;
Car park acoustics!
The Master himself
 
fmolumby@aol.com
~~~~~~~~~~~~~~~~~~~~~~~~
Following on from the Global Irish Civic Forum held at Dublin Castle in May…the Global Irish Diaspora Directory ….is now available in furthering the links that bind us together. A good piece of work by and from the Irish Government Foreign Affairs and Trade Secretariat.

~~~~~~~~~~~~~~~~~
Thomas Moore the bard of Ireland……….but , " in a village of England your bones should have rest"
In a recent edition of the Irish World I read of the revived interest by Eleanor Mc Evoy on the works of Thomas Moore.
What readers may not know is that he joins the band of famous Irish people buried in the UK. His  wife wanted him buried with his two children in the  family vault in Bromham, Wiltshire.
The British Poet Laureate John Betjeman called him " dear bard of my boyhood", he was mine also as my dad used sing his songs and I became ' a ministral boy'.
" In the churchyard of Bromham the yews intertwine
O'er smooth granite cross of a Celtic design,
Looking quite our of place in surroundings like these
In a corner of Wilts' twixt the chalk and the cheese.
I can but account you neglected and poor,
Dear bard of my boyhood, mellifluous Moore,
That far from the land which of all you loved best
In a village of England our bones should have rest .
Other famous Irish Abroad include George Bernard Shaw (Ayot St Lawrence, nr Welwyn), Percy French (Formby 'across the mersey)  and Sean O' Casey (Golders Green)
~~~~~~~~~~~~