Martin and Annette Logan from Irishinuktv review 2020 Christmas and pending new year with blessings and a message from Adrian O'Neill Ambassador of Ireland.
Weekly throughout the year Irish in the uk tv is broadcast on Sky 191 and archived on their youtube channel (same name and website ). They herald the very local culture, Gaelic games, faith and 'frollics' of the Irish in Britain. In their most recent episodes here:http://theirishintheuktv.com/  they profile  Birmingham's Irish Community and in particular the 'St.Theresa of the Irish in Britain' the late Sister Sebrina, legendary Irish Post reporter and photographer Brendan Farrell, entertainer Bob Brolly, and the family of Margaret Keane just wanting to 'honour their mother in rest '. Friend to Irish Entertainers Martin and Annette we have clips of Declan Nerney, TR Dallas Conor Gallen etc. Enjoy….all on
I liked in particular the Liverpool Irish Story and Irish profile of stars of the  silver screen, including a lady I was delighted to meet and interview
Maureen O'Hara.
"Highly recommend to you from the various webinars"
~~~~~~~~~~~~~~~~~~~~~~~~~~~~~~~~~
From a light in the window to a welcome on the Mat!
Ireland Abu! Launch of 
 Ireland's Diaspora Strategy 2020-2025
Introduction from  Minister Colm Brophy
Taoiseach address below
~~~~~
Taoiseach in conversation with                 
Olivia O' Leary at MacGill
I awaited this interview as one of the highlights of the MacGill Summer/Autumn School and was tempted to say, could or has any Taoiseach ever been offered such a poisoned chalice?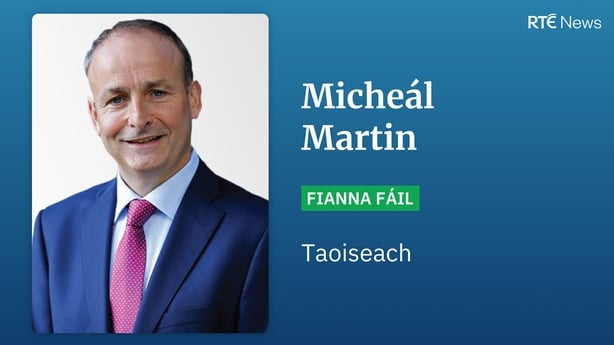 In a wide-ranging interview Olivia asked many of the current pertinent issues. On setting up the coalition of Fianna Fáil, Fine Gael and The Green party Taoiseach Micheál Martin said, "we had an obligation to serve the people" , which he asserted FF had done since Independence. He highlighted the need in the 21st century to embrace climate change and what the Green Party are bringing to this coalition.
He affirmed that the coalition was not as uneasy as people might think. He regaled a story of a coalition in the 70's  20th Dáil when at Áras an Uachtaráin, when president de Valera advised them to "stick together". When asked about briefings from Tánaiste Leo Varadkar, leaking so much part of modern politics and are "over the top, and it is the substance of the government that matters"
Following on from his speech in week on 'Shared Ireland', he affirmed that he did not favour a border poll now. Olivia asked is that straying from FF's historic united Ireland stance.  Micheál Martin highlighted the yet potential from The Good Friday Agreement as the current means to uniting the people of the Island. He cited the opportunities to work more closely on health and education. When asked about Sinn Féin now owning that space, he asserted the need for SF to change from being a very "controlling party", citing the Bobby Storey funeral as a political funeral with people summoned from all over the country  defying Covid regulation and with individuals not elected in control of the party. The war of 30 years did more to divide rather than unite the people.
On the question from Olivia on poor or badly manged communications recently  and the  delay in implementing the Stage 5 recommendations for The National Public Health Emergency Team :  the Taoiseach explained the need to have the Budget to enable the government to prepare for a different lockdown from the first, with priority of keeping schools open and building work going. He explained the government policy is to suppress the virus yet keep as much as possible the economy afloat.
On Brexit , he was confident "we can get a deal and common sense should prevail towards agreement " and told us he and Boris Johnson had asked their officials to keep British and Irish relations positively continued into the future.
And finally, in an age of inclusivity, he hopes to have  in his office a portrait of De Valera, Seán Lemass, Michael Collins  and hopefully Harry Boland if it can be sourced back from the United States.
Gerry Molumby
October 24th, 2020
MacGill Summer School, better late than never (Oct. 22 to 24)
Gerry Molumby
The Highland Hotel in main street Glenties , Co. Donegal has been the home of the MacGill Summer School for forty years and has grown from very modest beginnings to being one of the most important fora in Ireland for the analysis of topics of national and international interest. In the past few years it has broadcast and archived all its debates on line and was one of the first events of its kind to do so. It was on this link that I heard Daithí Ó Ceallaigh (previous ambassador to Britain) say when the Brexit Referendum was announced that we have to now discuss the possibility that they may exit. I could not believe that would happen but MacGill was there willing and able to discuss such, what was then, so unlikely
It has consistently been a source of innovative and fresh thinking on a range of social, economic, and political ideas. Every July it brings together government ministers, parliamentarians, heads of industry, trade union leaders, economists, sociologists, church leaders a broad range of public representatives from the North and South of Ireland, and beyond. Rather than cancel Mac Gill is transferring to a digital format and taking place at the end of October (22nd-24th) A keynote address is the annual John Hume Lecture, so pertinent in this year of his death.
The summer school was founded and is hosted by Joe Mulholland and is named in honour of Patrick MacGill local writer, Patrick MacGill. He wrote in the early 20th century on the social conditions in Donegal, the plight of migrant workers in Britain and the horrors of the Great War in which he fought as a soldier of the London Irish Rifles.  His books are still being published.
A short look at the list of speakers at this year's debates shows how influential the school is and where very busy politicians and academics find time to attend.
Dr. Mary Robinson, Former President of Ireland, Chair of The Elders & UN Special Envoy on Climate Change. Micheál Martin TD and Taoiseach. Prof. Devi Sridhar, University of Edinburgh and Chair in Global Public Health. Fintan O'Toole, Irish Times Columnist & Writer. Etc
Full details on how to log in are on their website:
Coming up on this week's Episode of The Irish in the UK TV, we caught up with Gerry Molumby who has made a variety of St Brigid crosses.
Birmingham Irish are running a toy appeal to help all the families who are struggling this Christmas .
Geraldine O Neill an Author from Co Offaly will be telling is about her latest book called The Nightingales in Mersey Square and
the talented Singer and Entertainer Alastair Coyle will be joining us and singing Ave Maria.
Thursday Night 7.30pm on SKY 192, Repeated Saturday at 8.30 and Tuesday at 1pm
If you don't have SKY watch it on line www.theirishintheuktv.com
Cork born but Nottingham based Pat Murphy to repeat his well researched and delivered talks on the centenary of Irish independence. You can join in via Zoom !
University of Liverpool – Continuing Education
Irish History and Literature
Online Courses exploring Irish History and Literature
The Undoing of Irish Constitutional Nationalism: The Home Rule Crisis and the Great War – 1914-1916
In 1914 Irish nationalism found itself in its most advantageous position since the heyday of Parnell. The Irish Parliamentary Party held the balance of power and forced the Liberal government to introduce a Home Rule bill, and the Parliament Act of 1911 removed the House of Lords' veto which had derailed previous attempts to implement Irish Home Rule. But the nationalists gravely misjudged the forces ranged against them and the Home Rule bill and the outbreak of war marked the beginning of the end of John Redmond and constitutional nationalism. With Dr Patrick Murphy, Tuesday, 13 October, 7-9pm
All changed, changed utterly: The Easter Rising and the Triumph of Defeat
Before the Easter Rising of 1916 the majority of Irish people supported John Redmond's Home Rule movement. Sinn Fein was almost defunct as a political party and the organisations that took part in the rebellion, the Irish Volunteers, the Irish Citizen Army and the Irish Republican Brotherhood had little public support. The Rising never had a chance of military success but the nature of a rebellion against the most powerful nation on earth the sacrifice of the rebels, was a far more powerful symbolic victory. With Dr Patrick Murphy, Tuesday, 3 November, 7-9pm
The Banner that Flies Nearest the Sky: The Irish Republic and the Death of Home Rule – 1916-1918
The Irish Home Rule Act, passed by the British parliament in 1914 promised Ireland (with six counties of Ulster 'temporarily' excluded) self-government within the United Kingdom. Home Rule was to come into effect at the end of the war and was widely supported by the majority of nationalists. However, after the Easter Rising in Dublin, the Home Rule movement, led by John Redmond, was eclipsed by the rise of Sinn Fein and the Irish Volunteers. Nationalist aspirations turned away from Home Rule to an Irish Republic, independent of British Rule. In James Fintan Lawlor's resonant phrase, the vision of the republic was now 'The banner that flies nearest the sky'. With Dr Patrick Murphy, Tuesday, 1 December, 7-9pm
For more information and registration please visit:
https://www.liverpool.ac.uk/continuing-education/choose-your-course/historical-studies/irish-history/
::::::::::::::::::::::::::::::::::
Open invitation for Irish Children Abroad to apply now to audition for this year's Late Late Toy Show!.  Solo or ensemble musicians , dancers , jugglers toy experts etc  etc .Don't delay closing date September 28th – Good Luck !
Ryan announced it in the first new show of the season on Friday last. I contacted the Late Late Show office in RTE Dublin and Jennifer O'Brien from RTE Communications told me
"Every year, over a hundred countries tune into The Late Late Toy Show on the RTE Player. The Irish diaspora all over the world have a connection to the toy show and this year many of them may not be able to return home to see their friends and family. So, for the first time in Toy Show history, we are inviting children from all over the world to take part in this year's show for one very special performance. We are looking for singers, dancers and musicians from around the world so please fill out the form below to apply.
https://www.rte.ie/tv/programmes/latelate/2020/0904/1163260-the-late-late-toy-show-auditions-apply-from-abroad/
#######
The GAA Collection – Irish sporting heritage free-to-view worldwide
The GAA Collection includes GAA Football 1947-1959 and GAA Hurling 1948-1968 finals, and will be watchable online for a limited period of time. 
I thought that this collection of films might be of particular interest to you because of their accessibility on the IFI Player, rendering them free to view internationally, to indulge in the nostalgia of Irish sporting memories. Also as a proud Tipperary man , native of the home of hurling in Thurles  (1884) and regular  viewer of Irish Film Institute archive ; I was delighted to find these gems.
About the GAA Collection
The films display sections of All Ireland Finals for GAA Football 1947-1959 and GAA Hurling 1948-1968. This material was shot by the National Film Institute of Ireland (now the IFI). In the 1940s, '50s and '60s the NFI became involved in producing educational and informative material, and entertainment. These GAA films are shot by legendary cameramen including Bob Monks, Brendan Stafford, Vincent Corcoran and George Fleischman. The films were distributed by Abbey Films and General Film Distributors to large cinema audiences. 
About the IFI Player
The IFI Irish Film Archive (part of the Irish Film Institute) collects, preserves and shares Ireland's national moving image collection, a diverse resource that chronicles over one hundred years of Irish achievement and experience. The Archive collection spans 1897 to the present day.
The IFI Player is a virtual viewing room for these remarkable collections, giving audiences across the globe instant access to this rich heritage. The material on the IFI Player has been selected to give audiences a taste of the breadth and depth of the collections preserved by the Archive. Home movies, newsreels, travelogues, animations, feature films, public information films and documentaries have been included as we have tried to reflect all aspects of indigenous amateur and professional production.
~~~~~~~~~~~~~~~~~~~~~~~~~~~~~~~
Wonderful new career opportunity to promote Irish culture throughout Britain ~ when opportunity knocks answer the door!
For as long as I have lived in Britain, usually after people establish who I am from my accent; they invariable will open up their description of Ireland around terms such as :
"Never been, love to go"
" My nan was from …"
" Studied Translations by Brian Friel  and Seamus Heaney for A Level"
"Loved Riverdance and U2″  and a list of boy bands follows and for older people it will be " miss Terry Wogan and Val Doonican"
"Irish events are so much fun, your humour, dramas , great bands  like The Saw Doctors and the hurling and football"
"Normal People is great on Netflix and them two mad lads from Cork, my mother and father go to all Mrs. Browne's Shows in UK"
The point I am making is that our culture is 'brand Ireland'
So this new national challenging role is full of opportunity to collate the local community cultural organisations with national Irish and  British (eg Culture Ireland and Coventry City of Culture) to produce long lasting collaborations. To promote Irish Culture in Wales and Scotland where Irish communities may not be as historically dense like Manchester and Birmingham. To utilise the numerous Irish students in so many British Universities and especially Irish Studies Faculties.
This post will be welcomed by the Irish in Britain and be assured of our support and encouragement . Gerry Molumby
~~~~~~~~~~~~~~~~~~~~~~~~~~~~~~~~~~~~~~~~~~~~
Irish Studies Activist in Nottingham Deirdre O'Byrne – in conversation with Emile Pine ~ Notes to Self !
~ combining Dublin and Nottingham as cities of culture ~
There's a taster of Emilie's Notes to Self on Google Books:
You should be able to read her first essay about her father.
Google Books has a preview of Tatty as well.
~~~~~~~~~~~~~~~~~
Newly appointed Diaspora Minister Colm Brophy T.D. makes first public announcement ,that the government will :
publish a new diaspora policy this year
and will bring forward legislation to to allow for a referendum on extending voting rights in presidential elections to Irish citizens abroad. 
Colm Brophy, FG, Dublin South-West: 
Department of Foreign Affairs and Trade with responsibility for Overseas Development Aid and Diaspora.
~~~~~~~~~~~~~~~~~~~~~~~~~~
Ireland's programme for Government announces a new diaspora policy in 2020
~ and the end of our campaign and to 'finally' host the Referendum on votes for the Irish Abroad in future Presidential Elections ~
Strengthening our relationship with the diaspora We will:
● Hold a referendum on extending the franchise at presidential elections to Irish citizens living outside the State.
● Publish a new diaspora policy in 2020.
● Prioritise the Emigrant Support Programme, ensuring that the most vulnerable members of our overseas communities are supported.
● Work to establish pathways for legal migration by Irish citizens to the US, continuing to support the E3 Visa Bill, and recognising the impact of COVID-19 on transatlantic travel.
● Seek solutions for undocumented Irish citizens in the US to regularise their status.
● Develop educational and work opportunities in Ireland for third and fourth generation Irish diaspora.
● Support those who wish to return to Ireland and address barriers facing returning emigrants
Liverpool Irish Studies
'its the way they tell em'
Kerry native, Dorothy Lynch , efficient administrator of Liverpool University Irish Studies keeps me in touch with their ongoing events. All the varied workshops of drama, documentary and music below were heralded to us on the days of broadcast during the current lockdown. Frankly I was not able to connect live to any of them. Therefore delighted to catch up this weekend. Enjoy. My favourite is the story of the  telling of  the story of Frank Carson by Dan Gordon  and a real tribute to The King of the Comedians .
Roisin Walters https://www.liverpool.ac.uk/music/events/culture-unconfined/roisin-walters/
Red Fox Theatre https://www.liverpool.ac.uk/humanities-and-social-sciences/research/culture-unconfined/catch-of-the-day/
Spanner in the Works https://www.liverpool.ac.uk/irish-studies/events/culture-unconfined/cultures-unconfined-what-if/
Maradona Kicking the Habit https://www.liverpool.ac.uk/humanities-and-social-sciences/research/culture-unconfined/maradona/
To be Frank Carson https://www.liverpool.ac.uk/irish-studies/events/culture-unconfined/cultures-unconfined-to-be-frank-carson/
The Man Who Shot the Great War https://www.liverpool.ac.uk/humanities-and-social-sciences/research/culture-unconfined/great-war/
Rita Ann Higgin's poetry https://www.liverpool.ac.uk/irish-studies/events/culture-unconfined/cultures-unconfined-rita-anne-higgins/
Quote of the whole series from Rita Higgins
"as fit as a falling fork" – great Heaneyesk line !
President and Prince meet at Irish Studies  2019  (Gerry Molumby Photographer )
______________________________________________
Global Irish Newsletter tells how Irishinuktv encapsulates some of the many ways that the Irish in the UK are responding to Covid 19
Minister Ciaran Cannon and the Irish Abroad Unit of Ireland will take you on a worldwide  'wherever green is worn '  journey of Irish  meitheal .
Meitheal 
https://www.dfa.ie/global-irish/
~~~~~~~~~~~~~~~~~~~~~~~~~
RTE Nationwide with the Irish in New York and how they are living with and contributing to the Coronavirus eradication
~~~~~~~~~~~~~~~~~~~~~~~~
Nottingham's St.Patrick's Day open air concert in Market Square CANCELLED
St. Patrick's Day open air concert in Nottingham Market Square cancelled .
PRESS RELEASE FOR IMMEDIATE DISTRIBUTION
Nottingham's St Patrick's Festival celebrations in the Market Square are a highlight in the city's cultural programme.
Energy abounds in music song and dance. The Government has moved into the 'delay' stage in relation to Coronavirus. We have decided in good will and caution to cancel our festival afternoon concert on March 17th in the Market Square.
SIGNED:
Gerry Molumby
St.Patrick's Festival Chair
On a positive note and gleam of light , we still expect the dome of the Council House to 'global green' on St.Patrick's Night !
Nottingham prisoners receive St. Patrick's Day cards unique to Nottingham designed by local artist Kerry Richardson
~~~~~~~~~~~~~~~~~~~~~~~~~
Do you know anyone in the Galtymore Stamp?
THE iconic Galtymore dancehall in London features in a new set of stamps issued in Ireland  by An Post honouring the nation's emigration story.
Take a close look do you recognise your  grandmother , mother, dad or uncle. It is my opinion the picture was taken by the Photographer Paddy Fahey , his archive is with Brent Libraries in North London. My estimate the year may be mid sixties!
The pdf below can be enlarged for a closer look, do we know what band was playing that night ? The Irish Post would like to hear from you editor@irishpost.co.uk,
Gerry Molumby
~~~~~~~~~~~~~~~~~~
Nottingham Council House joins the list of worldwide buildings going Green for St.Patrick's Festival 2020

Council House Nottingham 2020
St. Patrick's Festival Nottingham 2020 Brochure Gerry Molumby
~~~~~~~~~~~~~~~~~~~~~~~~~~~~~~~~~~~~~~~~~~~
Sister Stan ~ a life in focus and reflection
Veteran homeless campaigner Sister Stanislaus Kennedy opens up about cancer diagnosis
~~~~~~~~~~~~~~~~~~~~~~
Birmingham Irish with Angela Moran tell their story on

 
https://www.bbc.co.uk/iplayer/episode/m000f3xf/a-very-british-history-series-2-birmingham-irish-i-am

~~~~~~~~~~~~~~~~~~~
An Irish village theme and Riverdance the center piece of Nottingham's Irish Festival 2020 March 9th to 17th 
Now in its 21st year the Nottingham Irish will utilise the spacious Market Square for
their all day concert on St.Patrick's Day.
In the run up to the day there will be literary  and cinematic events hosted by the Irish Centre and Broadway cinema.
Comhaltas, St.Barnabas GAA, Golden Shamrock Club and the dancing schools will all have marquees in the square to share with the general public what they do. In between they will be performing on the main stage. Riverdance on their 25th anniversary tour in advance of their evening performance at the Royal Concert Centre will be dancing in the square also. The headline act is the premier Irish and County star John McNichool who is certain to get everyone dancing in the market square. This year we are twinning with Cork city and county !
Gerry Molumby
Chairperson
Festival Committee
Planning meetings 2020.
February 5th 19th March 4th 11th
Meeting Room Irish Centre – Car Park (Key Holder!)
16th evening set up
Riverdance in town ~Twinning with Cork City and County ~ School Pageants and much more .
There's 'talk' of a Wilde event ! and it will be anything but wild as his de profundis. The door of his cell from Reading Gaol is in Nottingham !
Gerry Molumby Festival Chairman

~~~~~~~~~~~
We are still making them to the calibre of Roger Casement's humanitarianism.
and many from the

Irish

in Britain
~~~~~~~~~~~~~~~~~~~~~~~~~~~~~~~
New play on the life and loves of Lucia Anna Joyce , daugther of James Joyce and Nora Barnacle ….now published

Would you like to book -Letters to Lucia touring 2019 .It tells the story of the loves and life of Lucia daughter of Jame and Nora. Lucia spent many years prior to death living in Northampton UK.
~~~~~~~~~~~~~~~~~~~~~~~~
Follow the President of Ireland around the most Irish of British cities ~ Liverpool
~~~~~~~~~~~~~~~~~~~~~
Large

Red

squirrels found roaming in Dingle 
!

Pass through the village of Llangefni and you could easily miss the Dingle (Nant y Pandy) Nature Reserve. This blissful woodland appears to be hidden at first, but it offers an enticing escape into a landscape that is alive with wildlife. The park also hosts several sculptures that reflect the character of the nature reserve. Bring your camera for photos of this peaceful corner of Anglesey and take your time to explore the area.
A raised and fenced wooden boardwalk was one of several 21st-century developments in the nature reserve. Find the start of the trail then set off to explore the area with ease, on foot or by wheelchair or stroller. The paths run beneath a canopy of oak and ash trees. Come in spring to witness the undergrowth explode with the colour of bluebells.
Look for the artworks that decorate the parkland as you walk around the trail. Sculptures include a giant dragonfly, seed pods and split timbers with a poem engraved on the inside. The park also includes sculpted benches and picnic tables, making it an ideal place to take a break.
Follow the trail in a circular route. The whole trail is about 1.5 miles (roughly 2 kilometers) long. At a gentle pace you should finish the circuit in around an hour. To explore some more, keep going to find the Cefni Reservoir on a 6-mile (10-kilometer) round trip.
Take binoculars to Nant y Pandy to spot the wildlife that lives here. Red squirrels are rare elsewhere in the country, but have been reintroduced to parts of Anglesey, including this reserve.
Frogs, newts, adders and lizards make up the reptile population, while a wide variety of birds call the reserve home. Watch the water's edge for a glimpse of a kingfisher's iridescent colors.
The Dingle (Nant y Pandy) Nature Reserve is free to enter and open throughout the year. Drive to the Church of St. Cygnar and park nearby, then head out onto the trails on foot. The wooden boardwalk does not require special footwear or hiking experience.
~~~~~~~~~~~~~~~~
What is the best piece of Irish Music ?
For me it is Eleanor Plunkett, by composer Turlough O'Carolan (1670–1738).
Here are my favourite versions ;
Car park acoustics!
The Master himself