Irish Hierarchy represented at Irish Chaplaincy 60th celebration.
Ambassador Adrian O'Neill hosted a reception to acknowledge the ongoing pastoral work of the Irish Chaplaincy throughout Britain. He reminded the guests how much the Irish Government appreciates the support the staff and volunteers give to isolated and vulnerable people and he said "we are celebrating here in a splendid room but you work at the coal face".
Harry Casey (Executive Administrator of Commissions and Agencies Irish Catholic Church) and Martin Long (Director of the Catholic Communications Office), attended to represent the appreciation of the Catholic bishops and parishes in Ireland.
Picture:
L – R Harry Casey (Executive Administrator Irish Bishops Conference for Social Issues a) John Walsh (Irish Chaplaincy Chair) Ambassador Adrian O'Neill, Eddie Gilmore (CEO Irish Chaplaincy) Father Gerry McGlynn (Irish Council for Prisoners Overseas) and Martin Long (Director Catholic Communications Office)
Irish Theatre London performed a cameo piece telling the work of the Irish Chaplaincy with Older Irish People, Prisoners and Travellers.
Guests,  hosts ,service users and staff enjoying the fellowship and networking
~~~~~~~~~~~~~~~~
Gerry Molumby's picture wins place in New York  photographic exhibition
Aptly titled Give me your poor, your tired, your huddled masses , the picture was taken in  August 2012  while Gerry  and family visited New York on route to stay with his brother John ,permanently living in California.
The exhibition will be hosted by Aisling Irish Community and Cultural Centre (990 McLean Ave, Yonkers, NY 1070). Out of nearly 1000 submissions , the exhibition will host 50, there will be a further 12 finalists to be included in their 2018 calendar. The only thing that 'gives the picture away' from being circa 1890 are the modern day cranes in the centre.
Gerry said " having just seen some of the other exhibition pictures there is an obvious high standard. Like most people I take scenic pictures but that day in New York harbour this sailing tourist ship came into view and I was reminded of all the Irish Emigrants who entered USA via  Ellis Island. The narrative by Emma Lazarus came to mind "
Give me your tired, your poor,
Your huddled masses yearning to breathe free,
The wretched refuse of your teeming shore.
Send these, the homeless, tempest-tost to me,
I lift my lamp beside the golden door!
"Then I knew I did not just  have a picture ,but a story "
Some of the other exhibition photos can be viewed here –
~~~~~~~~~~~~~~~~~
50 Festive Faces in 50 minutes on 5th 
Covent Garden yesterday  – most of the  pictures were taken in the market stalls , mainly of sellers.
I hope you enjoy them as I did seeing them  and walking about to come back ,  and set up my shot. Gerry
~~~~~~~~~~~~~~~~
Plague on Dublin's famous O'Connell Bridge dedicated to a priest  was in situ  two  years before being 'recognised' and there never was such a 'noise' to find out that the 'sagart'  never existed.
Google no further and let  (I did not get the name of the presenter ?)  RTE Documentary on One  tell you the story ; full of full of time – chime and rhyme puns that it is really great radio entertainment and information . I am selling it surely ok more convincing to get you to listen – it involves a priest – Gay Byrne, Joe Duffy and classic Dublin slang "The Chime in the Slime". Enjoy
http://www.rte.ie/radio1/doconone/2017/1102/917047-a-man-out-of-time/
https://player.fm/series/rt-radio-player-latest-podcasts/documentary-on-one-podcast-a-man-out-of-time
 ~~~~~~~
If you do nothing this week watch and share this wonder 'where humanity and technology meet'.
http://themindcircle.com/baby-hears-mother-first-time/
~~~~~~~~~~~~~~~~~~~~~
Sherwood Foresters remember all their regiment solders who died and were injured in battle
~ including the  240 casualties on Mount Street Bridge  Dublin on Easter Monday 2016 – where so many of  the total British losses and injuries  in Easter week took place  .
Crich Memorial Derbyshire November 11th 2017. Gerry Molumby Photographer
http://www.theirishstory.com/2011/04/26/today-in-irish-history-april-26-1916-the-battle-at-mount-street-bridge/#.WggY-Wh-qUk
http://www.crich-memorial.org.uk/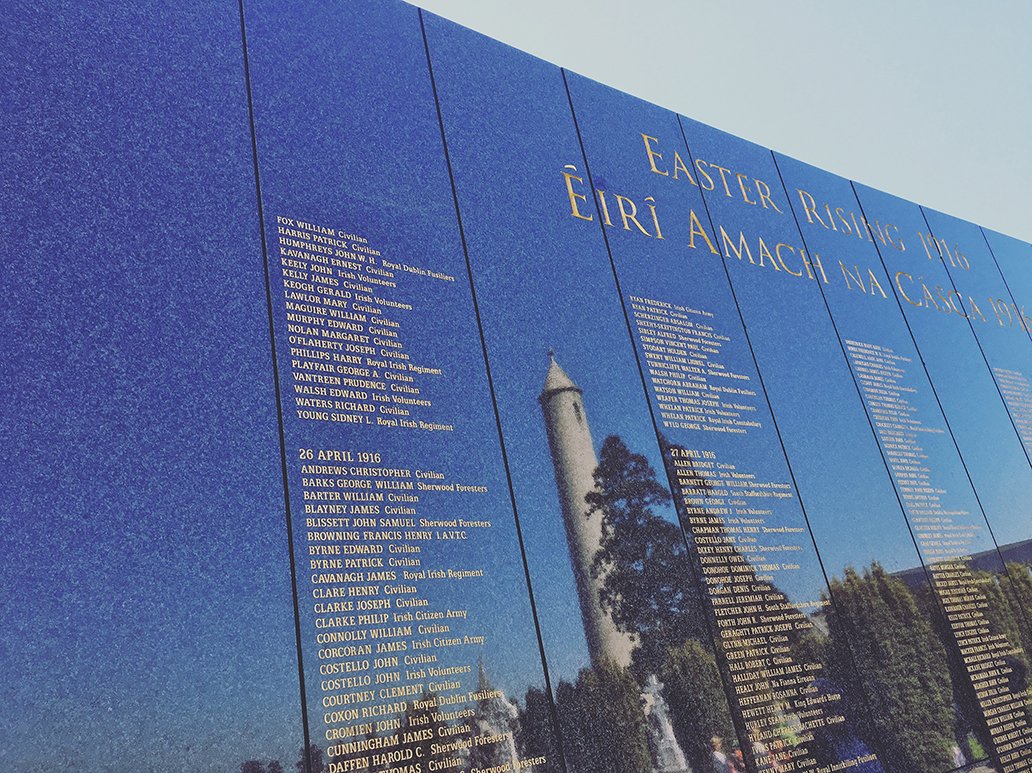 ~~~~~~~~~~~~~~~
The 'killen' in the North of Ireland is  gone forever because of 
Enniskillen
RTE and Tommie Gorman excel in this 30th year  sacred reflective documentary.
The St Patrick Chapel in the heart of London is the pilgrim home for many Irish emigrants to Britain and where the story begins. If you do anything this Remembrance Weekend watch this ~
https://www.rte.ie/player/gb/show/nationwide-21/10799402/
~~~~~~~~~~~~~~~~
Irishness, or indeed a kinship with any culture, is not reserved merely for those born on a certain piece of land, or for those who hold a document to say they have the right to declare an affinity. Irishness is a felt thing.
I agree so much with Johnny – as I tell Irish born in Britain " you are as much Irish as anyone born in Ireland , remember St.Patrick was of Roman Welsh lineage , the original terra-cotta Paddy " Gerry Molumby
Grammy nominated songwriter, producer and Snow Patrol band member, Johnny McDaid has been made an Honorary Fellow at the University of Liverpool's
~~~~~~~~~~~~~~~~~
Your Irish Passport is a work of art, let's look at it again.
~ and a Lancashire born Irish poet chosen to have her verse included …. ~
Story and pictures Gerry Molumby
At the Global Irish Civic Forum in  Dublin (May  2017) there was a wonderful presentation on the work that went in to the renewal of the Irish Passport , incorporating  the latest  security technology, but also making it  a piece of Irish art. So from notes and further research I have been on a voyage of discovery….come along with me. The first thing you will notice are the illustrations of Gaelic Sports and Music along with landmarks such as Croagh Patrick, Kylemore Abbey, Croke Park, the Cliffs of Moher and my native Rock of Cashel, which adorn the pages with the Brian Buru harp being the rightly expected watermark on each page.
Picture 1: Brian Buru harp being the rightly expected watermark on each page.
At the conference I was alerted to the inclusion, throughout the pages, to the full music score of Amhrán na bhFiann, the full text of Article 2 of the Irish Constitution, which appears alternately in Irish and in English.
It is the entitlement and birthright of every person born in the island of Ireland, which includes its islands and seas, to be part of the Irish Nation. That is also the entitlement of all persons otherwise qualified in accordance with law to be citizens of Ireland. Furthermore, the Irish nation cherishes its special affinity with people of Irish ancestry living abroad who share its cultural identity and heritage.
The written and spoken word is fully included with verses by William Butler Yeats and James Orr and Nuala Ní Dhomhnaíll.   Born in Lancashire, England in 1952, of Irish parents, Nuala moved to Ireland at the age of five, and was brought up in the Dingle Gaeltacht and in Nenagh, County Tipperary. A couple of Ní Dhomhnaíll's lines written in Irish on page six are  –  Labhrann gach cuinne den leathinis seo liom ina teanga feinig, teanga a thuigim  – loosely translated and with a nod towards the Irish abroad to mean –  every corner of the land speaks to us.
Dedicated to the Irish language Nuala writes poetry exclusively in Irish and is quoted as saying "Irish is a language of beauty, historical significance, ancient roots and an immense propensity for poetic expression through its everyday use", she currently lives near Dublin with her husband and four children and is a regular broadcaster on Irish radio and television.
Picture 2:On left the  Verse by Nuala Ní Dhomhnaíll. Note the Bird Knot, (centre of left page) the intricate nature of these original designs makes replication very difficult. Note the seed in the bird's beak to represent the 'scattering' of the Irish Abroad and part of the score from the national anthem on top left of each page in the passport.
Picture 3. The River Gods as seen under the Liffey Bridge are seen in all their glory when you bend two pages into each other.
Note also the Ogham characters (on lower left of the picture above) are printed in thermo-chromic ink, i.e. the colour of the character changes when heat is applied. The individual Ogham character and a hand drawn trace of a tree leaf, also lights up under ultra-violet inspection. Printed with shifting ink Spark technology, the image shimmers in the light. This is the first time this technology was used on an international travel document.
Ogham is an Early Medieval alphabet used to write the early Irish language. There are a number of surviving orthodox inscriptions on stone monuments throughout Ireland, mostly in southern Munster.
Picture 5. Newgrange Entrance Stone image. Again this is printed with shifting ink Spark technology behind the front page and as  with the Ogham the image shimmers in the light.
"Be advised, my passport's green" Seamus Heaney
~~~~~~~~~
Ambassador O'Neill heralds a great future for Irish music, song and dance in Britain.
Seasca bliain ag fás!
Speaking at the Irish Embassy London on Monday October 16th Aiden O'Neill complimented the young British born people who have maintained a  "connectivity to their home culture" by learning Irish music and dance from Comhaltas branches throughout Britain and he heralded them as being " vital to the success of Comhaltas  today". He also traced the history of Comhaltas in Britain from its foundations in Glasgow 60 years ago and is rapid spread to the conurbations where Irish people settled.
This theme was taken up by guest of honour Labhrás Ó Murchú, who travelled from Cashel, Co Tipperary for the night. Labhrás, the Ardstiúrthóir (Head) of Comhaltas worldwide and a retired member of Seanad Éireann; when he acknowledged that the expansion of Comhaltas throughout Britain is central to  the story of Ireland at home and abroad maintaining  its culture  for future generations. Reflecting on the Fleadh in Derry a few years ago he regaled the audience with an anecdote that as Irish people throughout the Island it is sometimes just flags that divide us but Irish people from different historic backgrounds share many of the same tunes and dances.
Gerry Molumby (Triskellion Theatre) Patrick Morrison (Comhaltas UK)  seamus Brogan (comhaltas UK) Labhrás Ó Murchú (Comhaltas Ireland) and Seamus McGarry (Hammersmith Irish Centre) 
Focusing on the local stories of success in Britain Michael Nevin (Cathaoirleach, Comhairle na Breataine) reminded the large audience/guests that in recent years three of the Presidents of Comhaltas Worldwide came from branches in Manchester, Luton and Birmingham. He made a profound point that people involved in promoting Irish traditional music in Britain are "ordinary people" and in reference to the young musicians from all over the UK who performed music and dance at the embassy, he described them to audience approval "as truly brilliant musicians"
Another highlight of the night was the launch of Pete Fawcett's photographical chronicle of Fleadh Cheoil na hÉireann over 40 years. From a simple hearing of The Dubliners on Radio Caroline this self-deprecating 'gurt lummox' of a Yorkshire man has travelled to many a Fleadh in Ireland and Britain and now we have a permanent record of those days. With stories of the improvement in Irish Ferries services (to which we all concur) to escapades with his 'banger' of a Ford Anglia (we had one of those!) this book is a beautiful pictorial record and told by Peter in a witty and concise way . As a true photographer he introduces briefly in words and make space in his book to let the pictures tell the story.
Ambassador O'Neill being presented with Fleadh by Peter Fawcett
Well done Peter.
~~~~~~~~~~~~~~~~~
The Irish in Britain have their own weekly tv show…
You can watch live on Thursday's 7:00 pm on Sky 212 & Freesat 161
or through the channel website/you tube
Great to see Peter Timins up in Halifax who has led the Irish Festival there for many years.
~~~~~~~~~~~~~
~~~~~~~~~~~~~~~~~~~~
Cutting edge of 60 years supporting Irish in Britain…read all about it on
Irish Chaplaincy

60th Anniversary concert in London 2017
Irish Prisoner Roger Casement Anniversary of death .  Mass at  Westminster Cathedral and Irish Embassy reception  August 1st 2016 Gerry Molumby Photographer
~~~~~~~~~~~~~~~
 ~~~~~~~~~~~~~~~~~~~~
Come into the garden Maud !

Gerry Molumby Photographer
~~~~~~~~~~~~~~~~~
Irish party at home of  W.S. Gilbert
Champion Irish Dancers Sorcha O'Neill and Joe McGeown dance  the Belfast Reel !
Now the Grims Dyke Hotel but the home of W.S Gilbert – the other half of Sullivan. The man who wrote all those comical librettos to suit the great musical compositions of Arthur Sullivan.
The Triskellion Irish Cabaret attracts a lot of people "who just want to experience Irish culture and entertainment often for the first time". The live show comprises comedy , singing, dancing and on Friday 29th Martin Ruddy and his Band led the audience on a merry dance into the night. A menu of Irish Cuisine , waiter service in the grand music room of this splendid old house was a fitting and warm setting.
Triskellion Productions return to the Grims Dyke on Friday  17th for another event and on Saturday December 2nd for an Irish Christmas dinner dance.
     http://grimsdyke.com/
~~~~~~~~~~~~~~~~~~~~~~~~~
50 portraits of  Irish people  in Britain ~ exhibition
The pending touring exhibition is the end product. For now I am putting a request/invitation out there for people who would describe themselves as Irish in Britain, to join in.  Obviously I want to reflect the ages, generations and be as regional as possible. I am not necessarily looking for a butcher , baker or candle stick makers …but you get the idea.
A proud mom to be Imelda May in 2012 at Dubliners final concert at Royal Albert Hall .
Gerry Molumby ~ Photographer
F.molumby@aol.com
Please copy to your websites and social media:
Thanks Gerry
Gift :  copy of portrait 
~~~~~~~~~~~~~~~~~~~~~~~~~~
What is the best piece of Irish Music ?
For me it is Eleanor Plunkett, by composer Turlough O'Carolan (1670–1738).
Here are my favourite versions ;
Car park acoustics!
The Master himself
 
fmolumby@aol.com
~~~~~~~~~~~~~~~~~~~~~~~~
Following on from the Global Irish Civic Forum held at Dublin Castle in May…the Global Irish Diaspora Directory ….is now available in furthering the links that bind us together. A good piece of work by and from the Irish Government Foreign Affairs and Trade Secretariat.

~~~~~~~~~~~~~~~~~
~~~~~~~~~~~~~~~~~~
~~~~~~~~~~~~
Thomas Moore the bard of Ireland……….but , " in a village of England your bones should have rest"
In a recent edition of the Irish World I read of the revived interest by Eleanor Mc Evoy on the works of Thomas Moore.
What readers may not know is that he joins the band of famous Irish people buried in the UK. His  wife wanted him buried with his two children in the  family vault in Bromham, Wiltshire.
The British Poet Laureate John Betjeman called him " dear bard of my boyhood", he was mine also as my dad used sing his songs and I became ' a ministral boy'.
" In the churchyard of Bromham the yews intertwine
O'er smooth granite cross of a Celtic design,
Looking quite our of place in surroundings like these
In a corner of Wilts' twixt the chalk and the cheese.
I can but account you neglected and poor,
Dear bard of my boyhood, mellifluous Moore,
That far from the land which of all you loved best
In a village of England our bones should have rest .
Other famous Irish Abroad include George Bernard Shaw (Ayot St Lawrence, nr Welwyn), Percy French (Formby 'across the mersey)  and Sean O' Casey (Golders Green)
~~~~~~~~~~~~