~ Global Irish Civic Conference Welcomes Diaspora to Dublin Castle ~
Copy and pictures Gerry Molumby
This year's forum was the third, with the last taking place in 2017. The theme for 2023 saw representatives of the global Irish family "Together Again – Le Chéile Arís". The themes covered in workshop, panel and Q&A varied from 'Our Values,' 'Staying Relevant,' Networking,' 'Culture / Sport,' Influence and Equality.
Coventry Irish 
London Irish Centres
The emotive highlight of the two-day conference was, when Mary Swanton from The Irish Pastoral Centre Boston spoke directly to the head of The Irish Abroad Unit, Aidan Cronin, to thank him and his team for how the immediate generous emergency funding from the Emigrant Support Funds during the pandemic, was vital. "We would not have survived the Covid pandemic without you."  Spoken at the last plenary session, she echoed the concerns of many of the delegates working in Irish Welfare who had to adapt quickly to issues like the travel ban and how facetime care/support was being done. This resulted globally in Irish Welfare Organisations having to literally think on their feet in a very fluid situation to use digital technology to enable families to connect by phone, zoom etc with loved ones and the whole logistics of repatriation and facilitating families visiting each other (some of whom were dying) across the world. Covid has put us in a place where we do things differently and how importantly being together physically is and we shared / learned how culture and welfare are 'hand in glove' to deliver and experience an holistic Irish emigrant experience.
The conference was attended by mainly representatives from Britain, USA, NZ and Australia , my photos reflect meeting delegates from Sweden and Jersey too, with  other accents from Mexico, Middle East etc and many also  following procedures live on https://www.youtube.com/watch?v=TrP-JPx-Z6g (Listen back)
Listening
Talking
At the first panel discussion Ireland born Hilary Beirne of the NYC St. Patrick's Day Foundation said "that 85 per cent of the young Irish diaspora aged 18 to 35 years of age in the United States are not engaged with any Irish organisation. He spoke directly to and for me when he continued "unless some sort of real engagement with either voting rights in a presidential election or some kind of representation here, Seanad, the ability of Ireland to have access to the White House on its national holiday may disappear." Alan Humphreys, president of the Irish Support Agency New South Wales, agreed on extending the vote to the presidency as did Ted Smith (retired Irish Diplomat and Glucksman Ireland House NYU) when he spoke from the floor and wanted to know "the delay, the hesitancy in calling the referendum." All argued for the need for a tangible form of connectiveness. I did not get to speak but would have summarised my recent letter to the Irish Examiner. Basically "a light in the window is fine and appreciated but we would welcome the welcome on the mat" (Gerry Molumby)
Sweden Calling  (Irish Chamber of Commerce) 
https://www.irishexaminer.com/opinion/yourview/arid-41084428.html
The panel and open microphone sessions were well planned and chaired. The hospitality for the Irish Abroad staff was very courteous and Dublin Castle looked splendid in the April sun.
Brochure:
https://prod-ireland-ie-assets.s3.amazonaws.com/documents/Global_Irish_Civic_Forum_2023_Online_Brochure.pdf
My photos:
Global Irish Civic Forum at Dublin Castle April 2023 Gerry Molumby | Flickr
Calendar 2023 and Triskellion Theatre first showcase Feb. 4th with folk band The Kilkennys
~~~~~~~~~~~~~~~~~~
Step out Garda Patrick Nevin
So pleased to read today of the simple note that Patrick Nevin from the Traveller Community is now Garda Patrick Nevin. He stepped out proudly in march step with the rest of Class 2022 in the courtyard of  Templemore Garda Station on July 8th . When the Irish Government took over that British Barracks following Independence and the formation of a new nation ; the concept of a traveller young man even getting access to an application form, was not going to happen. We had the failed policy of assimilation but now  the beginning of recognised Traveller people and culture as being a unique ethnicity, but it took nearly one hundred years.   
                         Garda Patrck Nevin July 8th 2022 Templemore                                                                 
Highlighting the journey ahead, Rose Marie Maughan from Minceirbeoir Advocacy said   " a great achievement for Patrick, a great day for Travellers, more of this please " . We are at the start of a long journey and must not rest on the laurels of the numerous Traveller business we have in Ireland and UK . We salute , Martin Beanz (Comedian and Commentator) , Dr Cindy Joyce (academic) ,Senator Eileen Flynn, Tamera O'Brien (Primary School Teacher) and the numerous Traveller Campaign Organisations ; but from my limited experience on visiting Irish people in UK prisons, the continued high representation of Irish Travellers in the UK prison community is concerning. We are still early on in the campaign for Traveller equality and opportunity in Ireland and abroad.
Gerry Molumby
Bloomsday 2022 in Northampton UK.
Full Programme Announced
'Letters to Lucia '
"Letters to Lucia", written by Richard Rose and James
Vollmar commemorates the lives of James Joyce,
celebrated every year on June 16th "Bloomsday", and his
daughter, the dancer Lucia Anna Joyce who is buried in
Kingsthorpe Cemetery in Northampton. The play received its
first performance on Bloomsday in 2018 and we are pleased to
bring you this evening's performance to coincide with the
100th anniversary of the publication of Ulysses and the fortieth
of Lucia's death at St Andrew's Hospital Northampton in 1982.
_____________________________________________________________________
Successful St.Patrick's Day Festival Nottingham 2022
St.Patrick's Day Nottingham and Gaelic Games St.Barnabas all on ITV BBC and Nottstv
Programme of events at Percy French 102nd Memorial and Anniversary Concert 
Percy French 102 Anniversary January 24th 2022 Gerry Molumby
~~~~~~~~~~~~~~~~~~~~
Invitation to Percy French 
102nd  Anniversary Memorial 
" Remember me is all I ask, And yet If the remembrance prove a task, Forget."                By William Percy French
It will come as no surprise , the reasoning, why the centenary of the death of Percy French on January 24th 2020 (at Formby , Liverpool) ,  was not celebrated in the fitting manner deserving of this great Irishman.  Percy  is acknowledged as one of Ireland's greatest songwriters , entertainers and water-colour artists . His songs, poems  and musical comedies ( many of these in  collaboration with with Houston Collison) are still sung and performed today. He is brand Ireland up there with Maureen O'Hare, Liam Neeson and the Irish Harp (Guinness) 
In collaboration with the Percy French Society, the Formby Civic Society, Irish Consulate for the North of England  and Rev. Dr. Matt Davis ; I am delighted to invite you to a 102th anniversary memorial  service and short  concert in tribute to  Percy French:
Monday January 24th  at his graveside  12 noon
St Luke's Church ,  Formby, Liverpool,   
L37 2DF
Percy French 102 memorial at graveside January 24th 2022 Gerry Molumby
Full programme will be available on the day and  to view in advance . Would appreciate if possible a RSVP, so we can  accommodate accordingly .
This blue  plaque is on the wall along Wicks Lane, Formby 
You walk down Wicks Lane from the Plaque, turn left along Woodlands Avenue and at the T junction turn right and follow the road round to the church.
PERCY FRENCH'S LINKS WITH FORMBY
Percy French fell ill with pneumonia in January 1920 whilst on a tour of the UK, and went directly to the home of a close relative, childhood friend and fellow student at Trinity College, Dublin. The home was in the coastal village of Formby in Lancashire; the relative was his cousin, Canon John Brooke Richardson ( 'JBR'), a popular and influential person in Formby at that time. It was in JBR's house by the Liverpool-Southport railway line that 'Willie' French spent his last days from the 16th to the 24th of January with 'Johnny Richardson', the sons of two sisters from Ireland. Johnny's mother Mary Anne also lived at the house, called variously 'Greenlea' or 'Green Lea'.  
Canon Richardson's church, Holy Trinity founded (1890) had no burial grounds and internments were made at St. Luke's Church. In 1928, the Canon himself passed away and was buried in the same churchyard, close to the gate.
Percy French came to Formby whenever his help was needed. These events could easily have been lost through the mists of time but for the records contained in Holy Trinity's Parish Magazine and recorded by William Marshallsay, who described a number of the visits. For example, in Spring 1898, "much anticipatory satisfaction was felt when it became known that the Vicar's cousin, Percy French, the renowned playwright poet, artist, musician and entertainer was coming to help at the forthcoming Village Fair. This was an attraction indeed for Mr. French had recently been honoured by inclusion in a Command Performance at Sandringham. Best known of his songs are 'The Mountains of Mourne', 'Phil, the Fluter's Ball' and of his poems."  
At the 3rd Village Fair in 1898, "Mr. Percy French's sessions in the Café Chantant were very popular and keenly enjoyed. He made lightning sketches with coloured crayons to illustrate his accompanying witty tales and talks; sometimes when these sketches were turned upside down an entirely different picture was revealed. He held china plates or saucers over a lit candle until the surface was smoky black, then with matchsticks for brushes, etched beautiful pictures in black and white. He would burst into songs or monologues accompanying himself on his banjo. Of his own verses and parodies he had an apparently inexhaustible store, including his watercolour paintings of Irish bogs, lakes, coast scenery and skies, together with his delightful pictures of corners of the rose garden."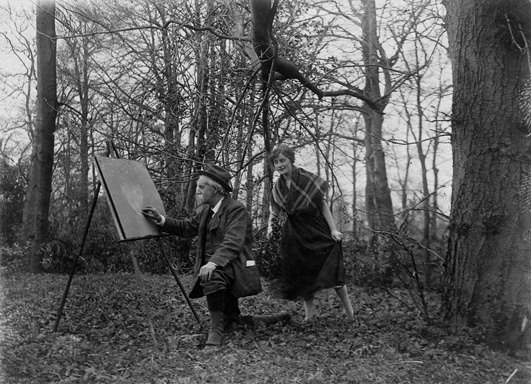 Thanks to John Phillips ,Formby Civic Society, who will speak further on this at the tribute on January 24th .
If I Should Die Tonight – Poem by William Percy French
"If I should die tonight
And you should come,
And stand beside me,
Lying cold and dumb,
And if while standing there,
You whispered low,
'Here's the ten pounds You lent me years ago,'
I would arise, although they'd laid me flat,
And say, 'What's that?'
But rose to count With trembling fingers,
That long lost amount I might live on;
But when You said' Here's your umbrella
And your fountain pen,'
For one short space I'd gaze into thy face
And then Drop dead again."
By William Percy French
~~~~~~~~~~~~~~~~~~~~~~~~~~~~~~~~~~~~~~~~~~~~~
 Irish Embassy In London Was Perfect Stage For The Treaty
Gerry Molumby review
As part of the Irish Government's Decade of Centenaries Programme 2012-2013, Fishamble Theatre Company were invited to perform The Treaty for two nights in early December at the Embassy of Ireland, London.
Having some experience of producing plays, I am aware of the logistics of putting up flats, securing weights behind and having to incorporate door entrances and exits according to stage directions. The Embassy ballroom complete with fireplace, crystal chandelier, solid grand doors, and ornamental plastered ceilings / walls was the ideal setting. The play and the venue were hand in glove as the ballroom mirrored the décor of 10 Downing Street, 5 Cromwell Place (home of Lady Lavery) 22 Hans Place and 15 Cadogan Gardens (where the Irish Delegation stayed), all within a 'stones throw' of each other in central London where the embassy is, in Grosvenor Place. The main room even doubled up as the council chambers of University College Dublin on Earlsfort Terrace (now the National Concert Hall), as the scene for the return of the plenipotentiaries (diplomats, invested with the full power of independent action on behalf of their government, typically in a foreign country) to update Éamon de Valera (President of Dáil Éireann). A lot was at stake here, but begs the eternal question, why didn't Éamon go to the negotiations  himself?
De Valera having his input from Dublin .Picture credit Ste Murray
"The play and the venue
were hand in glove"
With just the movement of where the actors sat in the room, or at what end of the main dining table we were transported from the cabinet room of Downing Street to all those other rooms where the Anglo-Irish Treaty was negotiated, discussed over drinks, or agued amongst themselves, during the months of October, November to the final signing on December 6th, 1921.
That table prop I must give attention to and set / lighting designer Paul Keoghan. Paul incorporated upward lighting coming from the spine of it, with subtle differing intensities of light to match the mood of the negotiating dialogue. One other aspect of the whole performance which I must compliment is director Conal Morrison's decision to have the cast enter and leave most scenes with hurried steps creating urgency. This was further intoned by the slow, clipped, and often loud dialogue, sometimes sprayed from the cast, who were wanting to do what was best for their side with a War threatened if some agreement was not reached, or was Lloyd George bluffing? The Treaty was negotiated during a truce! There were some calmer moments too, for example when the two arch enemies Churchill (Minister of War) and Michael Collins (soldier and reluctant politician) were at a drinks party and were discussing 'death.' Collins offered sympathy in that Irish way, virtually saying 'Sorry for your troubles.' Churchill's three-year-old daughter Marigold had died a month earlier from sepsis of the throat. There was too some harmonious singing, rendition of The Parting Glass and Michael Collins' parody of the most English songs from HMS Pinafore "he remains an Englishman"
Early into the play when Lloyd George (Jonathan White) welcoming Winston Churchill (Camilla Lucy Ross) simply said "Ah Winston," I could hear an audience member vocalise "Churchill," she had recognised for the first time that one and some more of the male parts were going to be played by women, six in all, with some doubling up. Michael Billington (The Guardian) called it "some of the best gender-blind casting I have seen," and he aptly credited the play as "a remarkable piece of political theatre"
Lloyd George under pressure. Picture Credit Ste Murray 
A central strand throughout the play was an agreeable wording of the Oath of Allegiance to the Crown. Writer Colin Murphy was not giving us a total fictional drama but keeping as much to the actual events. The source material for The Treaty is rich, featuring Thomas Packenham's definitive 1935 account of the Treaty negotiations, Peace by Ordeal, British cabinet secretary Tom Jones's diaries and the first-hand account of the Irish and British negotiators. The play thought us that in negotiations not only is where and who you put sitting opposite each other, important, but equally where you put the emphasis in an oath. In the play we see Lloyd George getting exasperated at times over this issue. They settled on I (name) do solemnly swear true faith and allegiance to the Constitution of the Irish Free State as by law established, and that I will be faithful to H.M. King George V, his heirs and successors by law in virtue of the common citizenship of Ireland with Great Britain and her adherence to and membership of the group of nations forming the British Commonwealth of Nations.
What followed was the  Civil War and eventual establishment of the Irish Free State.
Take a bow Fishamble, full production team and writer Colin Murphy.
~~~~~~~~~~~~~~~~~~~~~~~~~~
What a gift from Liverpool Irish Studies
Dear Friend,
I am delighted to let you know that 'Let Her Witness It' – the fourth and final of the short films in our Whose History? series is out now. 'Let Her Witness It' reimagines celebrated readings given by Mary E. Webb, the African American actor, who toured Britain in the 1850s with her husband, the writer Frank Webb. Mary Webb visited leading abolitionists and gave stirring dramatic readings from classic and contemporary literature, including at the Royal Institute in Liverpool in July 1857. To watch the short film and learn more about its background, please go to https://www.liverpool.ac.uk/irish-studies/whose-history/let-her-witness-it/.   
Whose History? explores questions of belonging and identity through the stories and experiences of people who have lived, worked and studied on the site of the University of Liverpool's South Campus over the past three centuries, please find below links for all four films in the series.
'Let Her Witness It'
A re-imagination of the celebrated readings given by Mary E. Webb, the African American actor, during her tour of Britain in the 1850s with her husband, the writer Frank Webb, especially the reading at the Royal Institute in Liverpool in July 1857.       
https://www.liverpool.ac.uk/irish-studies/whose-history/let-her-witness-it/  
'eJoy of Cooking'
This film focuses on the contemporary experience of students at the university today. Through their words we take different journeys.         
https://www.liverpool.ac.uk/irish-studies/whose-history/ejoy-of-cooking/  
'2600'
Inspired by the Irish Famine Trail memorial plaque on Mulberry Street, which marks the resting place of some 2600 people, this film is almost entirely wordless.       
https://www.liverpool.ac.uk/irish-studies/whose-history/2600/   
'Hey Joe'
Based on an interview with a community activist and fundraiser, this film takes place beside the memorial to Black Merchant Seamen in Falkner Square Gardens which he campaigned for.
https://www.liverpool.ac.uk/irish-studies/whose-history/hey-joe/
Whose History? was developed by Dr Eleanor Lybeck, Lecturer in Irish Literature at the Institute of Irish Studies, and her production company Sidelong Glance. The four films profile figures who have shaped Liverpool's past and present, from anonymous Irish Famine migrants to contemporary XJTLU students, and from a nineteenth-century African American actress whose performances brought the urgency of the abolitionist cause to life for Victorian Britain, to a community activist who has challenged and reimagined the ways we think about war and commemoration.
Whose History? examines and celebrates the unique relationships between people and place, and between the University and the city. Professor Dinah Birch, Pro-Vice Chancellor for Cultural Engagement, said: "We at the University are proud to share in and be part of the rich history of Liverpool. We celebrate those people, events, buildings, and institutions which make and have always made this a world-class city. At the same time, we realise that in order to understand our heritage fully, we need to recognise those aspects of the past which we find disappointing, disquieting, and distressing. It is only in knowing the past, and in confronting it, that we might improve upon the present. Whose History? strikes a balance between acts of celebration and acts of recognition."
This major civic engagement project builds on the success of the University's Culture Unconfined Festival in May 2020, which brought literature, music, drama, and discussion to virtual audiences around the world during the first lockdown. The Culture Unconfined website https://www.liverpool.ac.uk/humanities-and-social-sciences/research/culture-unconfined/ continues to host some of the online performances, such as Rita Ann Higgins reading of her poem 'I must wash down the banister'.
Professor Peter Shirlow, Director of the Institute of Irish Studies, said: "Whose History? is a fine example of the way in which the Institute aims to break down barriers between groups and communities. It challenges the invisibility of communities excluded from 'official' narratives. Recognition is an act, not merely of remembering, but of challenging cultural exclusion and purposeful historical amnesia."
The four Whose History? films, which are based exclusively on primary sources – including interviews, literary texts and newspaper reports – were shot on location on the South Campus in July and August this year. Informed by conversations with experts from the University, and by local historians and practitioners, they were generously funded by awards from the University of Liverpool Beacon Fund, the Alumni & Friends Fund, the School of the Arts Small Research Development Initiative Fund, and the Institute of Irish Studies. Support from the Beacon Fund allowed Sidelong Glance to employ two current undergraduates to work on the development, production and promotion of the films.
Dr Lybeck, who devised and directed the films, said: "Liverpool isn't where I'm from, but it's a place where I feel I belong. Through Whose History?, I wanted to draw attention to some of those episodes in the city's history that I find most compelling. It's been a privilege to be guided through the production process by people with a special understanding of Liverpool's past, and to have the chance to bring their stories to life."
To participate in the conversations about all the films in this series, visit Whose History? and Sidelong Glance on Instagram (@whosehistory) and Twitter (@sidelong_glance).
For further information, and with any queries, please contact Dr Eleanor Lybeck: eleanor.lybeck@liverpool.ac.uk.
I hope you will enjoy the films.
Kind regards,
Viola
_____________
Viola Segeroth
PA to the Director
The Institute of Irish Studies, University of Liverpool
1 Abercromby Square | Liverpool | L69 7WY
~~~~~~~~~~~~~~~~~~~~~~~~~~~~~~~~~~~~~~~~~
Global Irish to Unite Over Christmastide 2021
GET INVOLVED
To Be Irish at Christmas creates meaningful connections with the Irish Diaspora and those who have a grá for or are interested in Ireland and Irish culture around the world. There are many ways to participate in their worldwide celebration this year. Register your seasonal event, list your retail business, or to sign up to their  newsletter.
Naoimh told me  "We have also opened up our call out for our Extraordinary Stories this year. This is to build upon the amazing stories that were shared with us throughout the initiative. If you have any communities that might be interested in sharing their memories with us, I have included our registration from below. If anyone is having any difficulties submitting their stories at all, please direct them to myself and I can give them assistance. 
In the meantime, if there is anything else that I can help with, please let me know. 
Warmest regards
You can contact Naoimh for further information or help in utilising the site by email naoimh@tobeirish.ie
~~~~~~~~~~~~~~~~~~~~~~~~~~~~~~~~~~~~~
Tell your Irish in Britain picture story !
Karen McHugh , now working for Safe Home Ireland but worked for many years for  Irish Welfare and Housing in North London , has been in touch on their new project. It is a chance for you to resurrect a picture , that means a lot to you of your  time as an emigrant in Britain. Over the generations, Irish people have left  Ireland for many reasons, including to seek work,  join humanitarian movements, for further education not available in the past in Ireland . Maybe  personal reasons or to escape a situation or maybe  because it is good to travel.  Many had to leave as young adults  to support large families back home and many had to grow up very quickly, many thrived and made a good life in their adopted countries, but some also struggled with the responsibility of growing up too quickly on their own with no guidance until Irish Welfare and Chaplaicy etc were developed.  We all have a story to tell and Safe Home Ireland  would love to hear yours. Maybe you know someone who needs help in doing this and  you know has a good story and picture to tell it with .
Karen and the team  would love to see all your old photographs depicting your life away from home,  they would love to put together a memory board of the past and to keep history alive for future generations.
Karen told me  "If  people who read your blog and social media posts  would like to submit photographs and stories, we would love to hear from various parts of Britain, as varied as possible, but do keep your originals "
Safe Home Ireland  are looking for photographs that depict your life when you emigrated, these can be from any decade and can be accompanied by a brief description or a story behind the photograph.  They will  endeavour to use as many as possible, however it may not be possible to use all submissions, with a hope  to put together an exhibition  static and electonically . By submitting your photographs/story you agree for them to be used on social media or in our future exhibition as part of our  pending 21st Anniversary celebrations."
You can post entries, or attach to and email ~ to ~ Karen Mc Hugh via email: karen@safehomeireland.com or phone  Karen on 00353 87 977 5080 for more information ?
ADDRESS:

CEO, Safe Home Ireland, St. Brendan's Village, Mulranny, Co. Mayo
Safe Home Ireland
is an Irish emigrant support service that provides a range of services to more than 2,000 people each year. We provide an advice and information service, undertake outreach visits and provide housing assistance to eligible applicants.
Safe Home Ireland was established in the year 2000 to assist older qualifying Irish born emigrants to explore the option of returning to live in their native areas. The organisation was set up as a Pilot Project by a local GP and Safe Home Ireland Life President, Dr. Jerry Cowley.
~~~~~~~~~~~~~~~~~~~~~~~~~~
The  Dagenham Yank and  host of the emigrant's Parlour of Dreams Donncha Ó Dúlaing has died
The host of the emigrant's Parlour of Dreams Donncha Ó Dúlaing has died. His Saturday night radio show Fáilte Isteach was a firm favourite for many of Ireland's emigrants in Britain. Pre – modern internet connections, when we relied on a Long Wave connection not always audio standard. I listened to his final farewell broadcast in April 2015, when his usual closing line of "and pull the door out after you" was so poignant that night. He was in the seventies a major Irish celebrity as he took his Highways and Byways series throughout Ireland giving the ordinary people their voice on national radio. His affinity with the Irish Abroad may have come from, when after university and brief stint as a teacher, the fluent Irish-speaker left to become a trainee manager with Ford in Dagenham, England. He would have then on holidays, wearing the new range fashion of England, be used to being called "the Dagenham Yank is home".
Who can say they have interviewed notable figures from Mick Jagger to Pope John Paul II to President Eamon de Valera?
What a legacy. Thank You Donncha
PICTURE BELOW
Donncha visited London a few years back with The Irish Rambling House co-production with Triskellion Theatre. He is pictured here with Patrick O'Connell (OBE) who introduced him to the audience to speak.
Tokyo 2021 is on the horizon, and one should not rule out Crawley based Katie-George Dunlevy replicating or even bettering her Rio Olympic  success for Irish Cycling.
A regular visitor to Crawley Irish Festival where Katie for the past years returned with multiple world record medals won as stoker on tandem with Eve McCrystal. Most recently Rio 2016 Paralympic champion & Silver medallist. In November 2019 Katie received the Outstanding Contribution to Sport Award for Para Cycling at The Irish Post Awards.
Back in 2010 Katie heard that Ireland was trying to put a squad together for the world championships in 2011 in preparation to qualify for the London 2012 Paralympics. She got in touch with the coach and manager and came over to Ireland for some training camps and began her Irish odyssey. Her dad John has always been her hero, taking her to swimming and rowing training and championships before Katie took up cycling. He is from Mountcharles, on the coast of South Donegal where Katie and five sisters spent all their family holidays.  Katie told the Irish Post "Ireland is very dear to my heart, as are the people, and I am very proud to represent Ireland."
Tokyo 2021 is on the horizon, and one should not rule out Katie-George Dunlevy replicating or even bettering her Rio success.
You can follow Katie and Eve from Tokyo @KatieGDunlevy
PICTURE: Two women with the X Factor Katie – George Dunlevy and Dubliner Mary Byrne at Crawley Irish Festival 2018
 
 ~~~~~~~~~~~~~~~~~~~~~~~
Triskellion Theatre reviving The Tinkers Wedding by JM Synge with open auditions for 4 actors , male and female  
Rehearsals starting end of August  , performances througout UK, end of year and into 2022.
Triskellion is an Irish Community Company so interested in anyone who share a passion or cultural affinity to Irish Drama ,not necessarily full time actors. All welcome .
Contact:
Gerry 07772471894
Synopsis (two act play)

Sarah Casey is determined to marry Michael Byrne. Despite the scorn of his mother, Michael is prepared to do the deed and make Sarah an honest woman. A deal is struck with the local priest, who agrees to marry them for half the normal fee. But when the priest goes back on his word, he feels the wrath of the tinkers.
~~~~~~~~~~~~~

~~~~~~
Did you know your Irish Passport is a work of art and has  some very inciteful and unique features ?
The Irish Passport is a work of art and Lancashire born women chosen to

~~~~~~~~~~~~~~~~~~~~~~~
Bloomsday in Northampton ~ June 16th ~ Programme Announced
June 16th at 7pm at the grave of Lucia Anna Joyce, Kingsthorpe Cemetery, Northampton (Sat Nav) NN2 8LU
Outdoor and socially distant event, bring a deck chair, participate if you wish, contact 'Joyce the Lad', Gerry Molumby ~ email fmolumby@aol.com
Introduction Gerry Molumby (aka James Joyce)
'Me and the making of Joyce' (Frank Budgen) ~ James Vollmar.
'Oft in the stilly night' ~ sang by Sunny Jim!
'Lucia the dancer' (Carol Loeb Shloss' biography) ~ Richard Rose'
Was he insured ?, Mr. Bloom asked' (Glasnevin Cemetery) ~ Jimmy Joyce.
Nora Barnacle speaking for herself ~ Deirdre  O'Byrne
Guest speakers /readers
'Just a song at Twilight' Bernadette Hart, Sunny Jim and 'yours truly'!
—————————————————————————————-
Leave Well Alone When It Comes to United Ireland
~ a United Ireland referendum is possible and likely under the Good Friday Agreement, but not now ~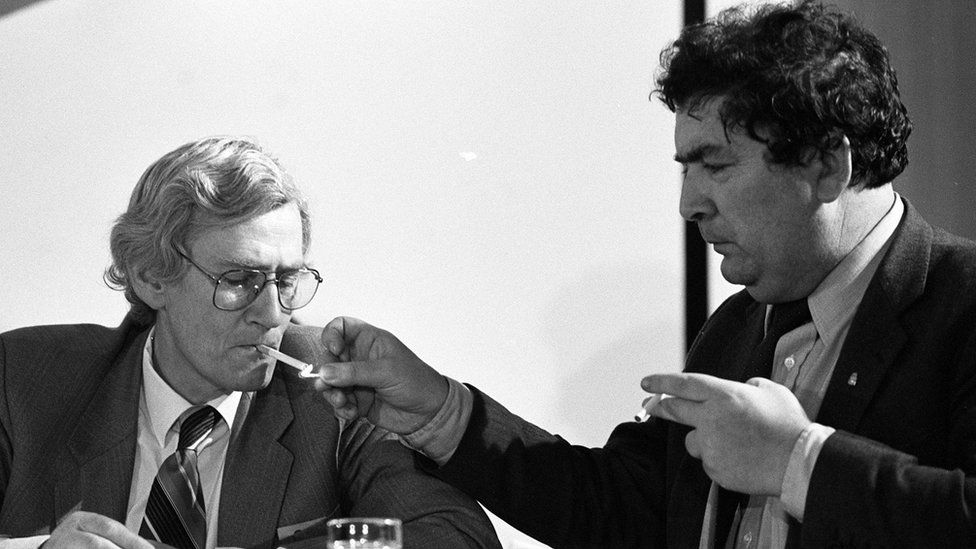 The Good Friday Agreement grasped many of the nettles of centuries of Northern Ireland conflicts and even after twenty-six years some of the issues are still stinging. Northern Ireland is far from at ease with itself and the violence over the Easter weekend confirms that. Yet it is an awful lot better and generally more peaceful than it was during my formative years 70s 80s 90s, most of these years spent living in the UK. Therefore, my reflections are based on being an Irish person from the Republic living in Britain.
How would I feel if the British Government post Brexit defied the Common Travel Area Agreement (1923/25), and we had a scenario declaring 'that all Irish people in Britain will be deemed British citizens?' How that would make me feel mirrors the fear and anger felt by some Unionists in Northern Ireland today. The early 17th century Presbyterian settlements to Northern Ireland have firmly established themselves as united to Britain. Likewise, generations of Irish born, or generations of children and adults of Irish emigrants are entitled to define themselves as Irish in Britain.
 After the surprise of the Brexit Referendum, I heard a respected politician saying, and I paraphrase 'with the confusion and mixed messages, and in the privacy of the pooling booth; many people felt the fear of a dog cornered, and resourced innate reaction, so fought to retain what they knew, our selves alone'. Similarly, but less confusing Unionists are currently expected to embrace a united Ireland under the flag that many associate with people who murdered their community and the same anthem that was sounded over the graves of their murderers, to be their future? On a recent debate on Raidió Teilifís Éireann,  prove how too early the debate was to be held. On the Clare Byrne Show both politicians from the Republic could not suggest a new flag or anthem as they knew right well that would not be acceptable to their nationalist, dare I say united Ireland, grass roots supporters. On the same programme, the nationalist input was left to the leaders of Sinn Féin and the Fine Gael parties, yet the party of the peacemakers John Hume and Seamus Mallon (SDLP) were excluded?
So early into a post Brexit relationship between Ireland and Britain and the ongoing pandemic, along with a Stormont Assembly hardly a model of modern harmonious governance; is not the time to be muting a united Ireland referendum. Learn from Brexit, because many people were not sure what they were being asked fully in the question. We cannot have this happen with Ireland and Britain's future
Surely what is required are years of setting out the principles of what is meant by a united Ireland. A five year all Ireland citizens assembly would be even a small but an effective starting point to distil the issues of sovereignty, joint citizenship, economy, health service, capital city, flag, anthem, currency, education, language, population ratio to name but a few!
Prepare and you are less likely to be found wanting and wounding!
Gerry Molumby
Derbyshire
Hail Glorious Saint Patrick Sean Nós
Saint Patrick's Day Nottingham 2021
PRESS RELEASE
It will come as no surprise that because of ongoing Covid 19 regulations that, again this year, we are unable to gather in the Market Square on March 17th, and showcase the best of Irish Music Song, Literature and Dance.
There are copious amounts happening online which we will alert you to via our website, Gerry Molumby's blog , twitter and facebook. Also follow @IrelandEmbGB and their invitation to the Embassy in London on March 17t
St. Patrick's Day Virtual Reception Tickets, Wed 17 Mar 2021 at 13:15 | Eventbrite
There is one event we are able to host in person, that is the annual St. Patrick's Day Mass.
Our Lady & St Patrick's Church in the Meadows (post code NG2 1JQ) can hold 51 people under social distancing requirements and the Mass will be at 10.00 am on St Patrick's Day. Adhering to Lockdown regulations you will need to book in advance, using the Diocesan on-line Mass booking system, http://www.massbooking.uk booking days before each Mass. You can watch afterwards on https://www.youtube.com/channel/UCC6yA1fDZnmNlW1jGybrN-Q
As part of the Global Greening we expect the Council House to be lit up also 
We had a great festival lined up for 2020 by recreating an Irish Village theme and we expect to be able to celebrate that next year with many of our artists already confirmed.
FOR FURTHER MEDIA ENQUIRIES:
Please contact Gerry Molumby fmolumby@aol.com   @GerryMolumby
www.irelandanditsdiaspora.com News Page
Our Website http://www.nottinghamstpatricksfestival.org.uk
and Social Media @StPatricksNottm  
NOTES FOR EDITORS:
 About Nottingham's Saint Patrick's Day Festival
Since 1999 we have hosted a parade and the centre piece has been our open-air concert in the Market Square where we highlight all our talents and culture. We attach to that Irish cinema festival and school art and story activities.
Nuacht Maith
UK Government has formally launched its new Global Health Insurance Card (GHIC) 
Have always valued my European Health Insurance Card and ironically only used it once while in Ireland; but was assured I had it ,along with my Irish Passport Plastic Card, in my wallet for as and when needed.   So pleased to hear from the Embassy in London today that :
Residents of the United Kingdom, including dual Irish-British citizens, people of Northern Ireland, and Irish citizens who take up residence in the UK from 1 January 2021, can apply for a GHIC card. This will permit you  to access necessary state-provided healthcare at the same cost as local residents while on visits to EU countries.
As in my case existing EHIC cards will continue to be valid until their expiry date (2022 for me) , after which UK residents should apply for a replacement GHIC card.
Apply for a free UK Global Health Insurance Card (GHIC) – NHS (www.nhs.u           
~~~~~~~~~~~~~~~~~~~~~~~~~~~~~~~~
From a light in the window to a welcome on the Mat!
Ireland Abu! Launch of 
 Ireland's Diaspora Strategy 2020-2025
Introduction from  Minister Colm Brophy
Taoiseach address below
Click to access Diaspora-Strategy-2020-English.pdf
~~~~~
Taoiseach in conversation with                 
Olivia O' Leary at MacGill
I awaited this interview as one of the highlights of the MacGill Summer/Autumn School and was tempted to say, could or has any Taoiseach ever been offered such a poisoned chalice?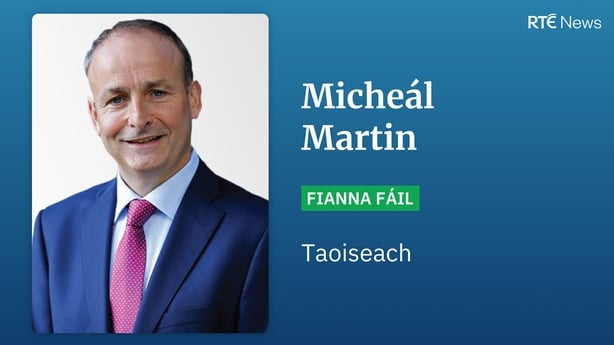 In a wide-ranging interview Olivia asked many of the current pertinent issues. On setting up the coalition of Fianna Fáil, Fine Gael and The Green party Taoiseach Micheál Martin said, "we had an obligation to serve the people" , which he asserted FF had done since Independence. He highlighted the need in the 21st century to embrace climate change and what the Green Party are bringing to this coalition.
He affirmed that the coalition was not as uneasy as people might think. He regaled a story of a coalition in the 70's  20th Dáil when at Áras an Uachtaráin, when president de Valera advised them to "stick together". When asked about briefings from Tánaiste Leo Varadkar, leaking so much part of modern politics and are "over the top, and it is the substance of the government that matters"
Following on from his speech in week on 'Shared Ireland', he affirmed that he did not favour a border poll now. Olivia asked is that straying from FF's historic united Ireland stance.  Micheál Martin highlighted the yet potential from The Good Friday Agreement as the current means to uniting the people of the Island. He cited the opportunities to work more closely on health and education. When asked about Sinn Féin now owning that space, he asserted the need for SF to change from being a very "controlling party", citing the Bobby Storey funeral as a political funeral with people summoned from all over the country  defying Covid regulation and with individuals not elected in control of the party. The war of 30 years did more to divide rather than unite the people.
On the question from Olivia on poor or badly manged communications recently  and the  delay in implementing the Stage 5 recommendations for The National Public Health Emergency Team :  the Taoiseach explained the need to have the Budget to enable the government to prepare for a different lockdown from the first, with priority of keeping schools open and building work going. He explained the government policy is to suppress the virus yet keep as much as possible the economy afloat.
On Brexit , he was confident "we can get a deal and common sense should prevail towards agreement " and told us he and Boris Johnson had asked their officials to keep British and Irish relations positively continued into the future.
And finally, in an age of inclusivity, he hopes to have  in his office a portrait of De Valera, Seán Lemass, Michael Collins  and hopefully Harry Boland if it can be sourced back from the United States.
Gerry Molumby
October 24th, 2020
Coming up on this week's Episode of The Irish in the UK TV, we caught up with Gerry Molumby who has made a variety of St Brigid crosses.
Birmingham Irish are running a toy appeal to help all the families who are struggling this Christmas .
Geraldine O Neill an Author from Co Offaly will be telling is about her latest book called The Nightingales in Mersey Square and
the talented Singer and Entertainer Alastair Coyle will be joining us and singing Ave Maria.
Thursday Night 7.30pm on SKY 192, Repeated Saturday at 8.30 and Tuesday at 1pm
If you don't have SKY watch it on line www.theirishintheuktv.com
::::::::::::::::::::::::::::::::::
Wonderful new career opportunity to promote Irish culture throughout Britain ~ when opportunity knocks answer the door!
For as long as I have lived in Britain, usually after people establish who I am from my accent; they invariable will open up their description of Ireland around terms such as :
"Never been, love to go"
" My nan was from …"
" Studied Translations by Brian Friel  and Seamus Heaney for A Level"
"Loved Riverdance and U2″  and a list of boy bands follows and for older people it will be " miss Terry Wogan and Val Doonican"
"Irish events are so much fun, your humour, dramas , great bands  like The Saw Doctors and the hurling and football"
"Normal People is great on Netflix and them two mad lads from Cork, my mother and father go to all Mrs. Browne's Shows in UK"
The point I am making is that our culture is 'brand Ireland'
So this new national challenging role is full of opportunity to collate the local community cultural organisations with national Irish and  British (eg Culture Ireland and Coventry City of Culture) to produce long lasting collaborations. To promote Irish Culture in Wales and Scotland where Irish communities may not be as historically dense like Manchester and Birmingham. To utilise the numerous Irish students in so many British Universities and especially Irish Studies Faculties.
This post will be welcomed by the Irish in Britain and be assured of our support and encouragement . Gerry Molumby
~~~~~~~~~~~~~~~~~~~~~~~~~~~~~~~~~~~~~~~~~~~~
Irish Studies Activist in Nottingham Deirdre O'Byrne – in conversation with Emile Pine ~ Notes to Self !
~ combining Dublin and Nottingham as cities of culture ~
There's a taster of Emilie's Notes to Self on Google Books:
You should be able to read her first essay about her father.
Google Books has a preview of Tatty as well.
~~~~~~~~~~~~~~~~~
Newly appointed Diaspora Minister Colm Brophy T.D. makes first public announcement ,that the government will :
publish a new diaspora policy this year
and will bring forward legislation to to allow for a referendum on extending voting rights in presidential elections to Irish citizens abroad. 
Colm Brophy, FG, Dublin South-West: 
Department of Foreign Affairs and Trade with responsibility for Overseas Development Aid and Diaspora.
~~~~~~~~~~~~~~~~~~~~~~~~~~
Ireland's programme for Government announces a new diaspora policy in 2020
~ and the end of our campaign and to 'finally' host the Referendum on votes for the Irish Abroad in future Presidential Elections ~
Strengthening our relationship with the diaspora We will:
● Hold a referendum on extending the franchise at presidential elections to Irish citizens living outside the State.
● Publish a new diaspora policy in 2020.
● Prioritise the Emigrant Support Programme, ensuring that the most vulnerable members of our overseas communities are supported.
● Work to establish pathways for legal migration by Irish citizens to the US, continuing to support the E3 Visa Bill, and recognising the impact of COVID-19 on transatlantic travel.
● Seek solutions for undocumented Irish citizens in the US to regularise their status.
● Develop educational and work opportunities in Ireland for third and fourth generation Irish diaspora.
● Support those who wish to return to Ireland and address barriers facing returning emigrants
Click to access draft-programme-for-govt.pdf
Liverpool Irish Studies
'its the way they tell em'
Kerry native, Dorothy Lynch , efficient administrator of Liverpool University Irish Studies keeps me in touch with their ongoing events. All the varied workshops of drama, documentary and music below were heralded to us on the days of broadcast during the current lockdown. Frankly I was not able to connect live to any of them. Therefore delighted to catch up this weekend. Enjoy. My favourite is the story of the  telling of  the story of Frank Carson by Dan Gordon  and a real tribute to The King of the Comedians .
Roisin Walters https://www.liverpool.ac.uk/music/events/culture-unconfined/roisin-walters/
Red Fox Theatre https://www.liverpool.ac.uk/humanities-and-social-sciences/research/culture-unconfined/catch-of-the-day/
Spanner in the Works https://www.liverpool.ac.uk/irish-studies/events/culture-unconfined/cultures-unconfined-what-if/
Maradona Kicking the Habit https://www.liverpool.ac.uk/humanities-and-social-sciences/research/culture-unconfined/maradona/
To be Frank Carson https://www.liverpool.ac.uk/irish-studies/events/culture-unconfined/cultures-unconfined-to-be-frank-carson/
The Man Who Shot the Great War https://www.liverpool.ac.uk/humanities-and-social-sciences/research/culture-unconfined/great-war/
Rita Ann Higgin's poetry https://www.liverpool.ac.uk/irish-studies/events/culture-unconfined/cultures-unconfined-rita-anne-higgins/
Quote of the whole series from Rita Higgins
"as fit as a falling fork" – great Heaneyesk line !
President and Prince meet at Irish Studies  2019  (Gerry Molumby Photographer )
______________________________________________
Global Irish Newsletter tells how Irishinuktv encapsulates some of the many ways that the Irish in the UK are responding to Covid 19
Minister Ciaran Cannon and the Irish Abroad Unit of Ireland will take you on a worldwide  'wherever green is worn '  journey of Irish  meitheal .
Meitheal 
https://www.dfa.ie/global-irish/
~~~~~~~~~~~~~~~~~~~~~~~~~
RTE Nationwide with the Irish in New York and how they are living with and contributing to the Coronavirus eradication
~~~~~~~~~~~~~~~~~~~~~~~~
Nottingham's St.Patrick's Day open air concert in Market Square CANCELLED
St. Patrick's Day open air concert in Nottingham Market Square cancelled .
PRESS RELEASE FOR IMMEDIATE DISTRIBUTION
Nottingham's St Patrick's Festival celebrations in the Market Square are a highlight in the city's cultural programme.
Energy abounds in music song and dance. The Government has moved into the 'delay' stage in relation to Coronavirus. We have decided in good will and caution to cancel our festival afternoon concert on March 17th in the Market Square.
SIGNED:
Gerry Molumby
St.Patrick's Festival Chair
On a positive note and gleam of light , we still expect the dome of the Council House to 'global green' on St.Patrick's Night !
Nottingham prisoners receive St. Patrick's Day cards unique to Nottingham designed by local artist Kerry Richardson
~~~~~~~~~~~~~~~~~~~~~~~~~
Do you know anyone in the Galtymore Stamp?
THE iconic Galtymore dancehall in London features in a new set of stamps issued in Ireland  by An Post honouring the nation's emigration story.
Take a close look do you recognise your  grandmother , mother, dad or uncle. It is my opinion the picture was taken by the Photographer Paddy Fahey , his archive is with Brent Libraries in North London. My estimate the year may be mid sixties!
The pdf below can be enlarged for a closer look, do we know what band was playing that night ? The Irish Post would like to hear from you editor@irishpost.co.uk,
Gerry Molumby
~~~~~~~~~~~~~~~~~~
center piece of Nottingham's Irish Festival 2020 March 9th to 17th 
Now in its 21st year the Nottingham Irish will utilise the spacious Market Square for
their all day concert on St.Patrick's Day.
In the run up to the day there will be literary  and cinematic events hosted by the Irish Centre and Broadway cinema.
Comhaltas, St.Barnabas GAA, Golden Shamrock Club and the dancing schools will all have marquees in the square to share with the general public what they do. In between they will be performing on the main stage. Riverdance on their 25th anniversary tour in advance of their evening performance at the Royal Concert Centre will be dancing in the square also. The headline act is the premier Irish and County star John McNichool who is certain to get everyone dancing in the market square. This year we are twinning with Cork city and county !
Gerry Molumby
Chairperson
Festival Committee
Planning meetings 2020.
February 5th 19th March 4th 11th
Meeting Room Irish Centre – Car Park (Key Holder!)
16th evening set up
Riverdance in town ~Twinning with Cork City and County ~ School Pageants and much more .
There's 'talk' of a Wilde event ! and it will be anything but wild as his de profundis. The door of his cell from Reading Gaol is in Nottingham !
Gerry Molumby Festival Chairman

~~~~~~~~~~~
We are still making them to the calibre of Roger Casement's humanitarianism.
and many from the

Irish

in Britain
~~~~~~~~~~~~~~~~~~~~~~~~~~~~~~~
New play on the life and loves of Lucia Anna Joyce , daugther of James Joyce and Nora Barnacle ….now published

Would you like to book -Letters to Lucia touring 2019 .It tells the story of the loves and life of Lucia daughter of Jame and Nora. Lucia spent many years prior to death living in Northampton UK.
~~~~~~~~~~~~~~~~~~~~~~~~
Follow the President of Ireland around the most Irish of British cities ~ Liverpool
~~~~~~~~~~~~~~~~~~~~~
Large

Red

squirrels found roaming in Dingle 
!

Pass through the village of Llangefni and you could easily miss the Dingle (Nant y Pandy) Nature Reserve. This blissful woodland appears to be hidden at first, but it offers an enticing escape into a landscape that is alive with wildlife. The park also hosts several sculptures that reflect the character of the nature reserve. Bring your camera for photos of this peaceful corner of Anglesey and take your time to explore the area.
A raised and fenced wooden boardwalk was one of several 21st-century developments in the nature reserve. Find the start of the trail then set off to explore the area with ease, on foot or by wheelchair or stroller. The paths run beneath a canopy of oak and ash trees. Come in spring to witness the undergrowth explode with the colour of bluebells.
Look for the artworks that decorate the parkland as you walk around the trail. Sculptures include a giant dragonfly, seed pods and split timbers with a poem engraved on the inside. The park also includes sculpted benches and picnic tables, making it an ideal place to take a break.
Follow the trail in a circular route. The whole trail is about 1.5 miles (roughly 2 kilometers) long. At a gentle pace you should finish the circuit in around an hour. To explore some more, keep going to find the Cefni Reservoir on a 6-mile (10-kilometer) round trip.
Take binoculars to Nant y Pandy to spot the wildlife that lives here. Red squirrels are rare elsewhere in the country, but have been reintroduced to parts of Anglesey, including this reserve.
Frogs, newts, adders and lizards make up the reptile population, while a wide variety of birds call the reserve home. Watch the water's edge for a glimpse of a kingfisher's iridescent colors.
The Dingle (Nant y Pandy) Nature Reserve is free to enter and open throughout the year. Drive to the Church of St. Cygnar and park nearby, then head out onto the trails on foot. The wooden boardwalk does not require special footwear or hiking experience.
~~~~~~~~~~~~~~~~
What is the best piece of Irish Music ?
For me it is Eleanor Plunkett, by composer Turlough O'Carolan (1670–1738).
Here are my favourite versions ;
Car park acoustics!
The Master himself