Did RTE Nationwide get it better than the Late Late Show, in telling part of  the Irish in Britain story on visit to London the same day ?
https://www.rte.ie/player/gb/show/nationwide-21/10951569/
______________________________________________
Liverpool Irishman Damien Brickland hosts an annual golf tournament for Hope House in Cheshire.
~~~~~~~~~~~~~~~~
Why have we heard so little about Ireland's martyred Priests of 'the troubles?
This TG4 documentary might 'shed some blood' on the background to them.
https://tg4.ie/en/player/home/?pid=5789315951001&teideal=Des%20Wilson%20-%20Sagart%20Pobal%20&series=Cogar&dlft=34
~~~~~~~~~~~~~~~
Was Bing  (Harry) Crosby the original Irish-American  Sean-nós  professional performer?
Watch out for the great Dermot O'Brien and Milo O'Shea crooning with Bing !
https://tg4.ie/en/player/home/?pid=5679182317001&teideal=Bing%20Crosby%20-%20Guth%20&series=Guth%20&dlft=25
I watched the first presidential debate on RTE News at One 27/9/18. Here are my thoughts !
The pending presidential election, although an exercise in democracy, will be a 'going through the motions' of re-electing Michael D Higgins as Uachtarán na hÉireann. I predict he will be re-elected not only because of the calibre of those standing against him; but by the names of those not going up against him seeking the national mandate. Where is Bertie Ahern, Enda Kenny or Michael McDowell, a grandson of Irish revolutionary and Gaelic scholar Eoin MacNeill. The main political parties are not nominating a candidate, so they are keeping their powder dry! fully conscious of Michael's popularity and therefore waiting for next time.
2018
Joan Freeman – well meaning and great opportunity to promote Pieta House
Liadh Ní Riada – Sinn Féin and a nation once again candidate out and out.
Peter Casey – well meaning but verbally indecisive
Gavin Duffy – if job at the Aras in public relations – he is your man, but keep him away from the seal of office !
Seán Gallagher – has been!. Or where has he been the past 7 years ? (He appears to not have got over the 'Siege of Derry' 2011 by Martin Mc Guinness RIP)
President of Ireland  ? – 'Miggledy Higgins' (ceist answer child of 7!)
~~~~~~~~~~~~~~~~~
Ceiliúradh Londáin October 13th
Presented by The Council of Irish County Associations in collaboration with the London Irish Centre.
The Gaelic Games, Drama, Music Song and Dance communities in London have got together to present this Showcase from 8pm on Saturday October 13.
I have been asked to work with the team and be MC on the night. The final programme is near completion and further details to follow.
To book tickets: https://www.eventbrite.co.uk/e/ceiliuradh-londain-tickets-49870217162
>>>>>>>>>>>>>>>>>>>>
Crawley Irish Festival – as seen on Irish tv with Martin and Annette Logan.
and more next week !
– another great Irish family day out .
Pictorial chronicle on my flickr screen below
95 and still going …..to the Crawley Irish Festival

 3 Stages 
 
 Main man – organiser John Nolan
John Mc Nicholl and Mary Byrne duet – Ireland's got talent !!

family day out 
——————————————–
Fergal Keane BBC 
History of Ireland
A new five-part landmark series, written and presented by BBC Special Correspondent Fergal Keane, The Story of Ireland is a clear-eyed and expansive view of the history of the island and its people from its earliest times to the present day. Far from being a remote European outpost, episode one charts the formation of Ireland's DNA by successive ways of invaders and settlers. Along the way, Keane exposes the myth of Ireland's Celtic identity – he travels to Norway and presents the Vikings as resourceful settlers and traders in Ireland rather than as the barbarous marauders of popular belief. He also follows the trail of the early Iris monks as they bring their literature and learning through Europe to re-energise the Christian world, in the early Middle Ages.
https://www.bbc.co.uk/iplayer/episode/b00yvscy/story-of-ireland-1-age-of-invasions
I have been following with interest the developing narrative since President Higgins made public his intention to seek the nomination for a second term.
If challenged in an election, I feel he will, rightly, be re-elected. MD has served the Irish at home and abroad well .With the pending referendum of giving the vote in the presidency to the Irish abroad, the election will be good for the fast changing pertinent political and ethical Irish priorities.
Other than one resignation and death in office we have had at least two  fourteen year terms being unopposed, as though the office was the prerogative of the  Fianna Fáil  party .I am old enough to remember 1966 ,when Judge Tom O'Higgins had the 'nerve' to challenge Éamon de Valera, but remember he only lost by 1%. Incidentally he stood again against Erskine Childers and only lost by only 4%.
An election can be a tough arena as Seán Gallagher knows well, and he appears to be showing interest. He was tripped up by in the 2011 presidential tv debate by Martin McGuiness. He was running favourite and I feel that McGuiness felt he himself was not likely to win but was not going to give Seán a continued lead. No disrespect, but a tv dragon's den presenter may not have the breadth of experience and knowledge to be president. In many ways the late Martin may have done the country a favour. Since the presidency of 'the two Marys', the office is more demanding and has a raised worldwide reputation and not only with the Diaspora. The office of Uachtarán na hÉireann is in essence a popularity constant and to date the Irish electorate have been astute to elect people capable of representing us at the United Nations and feel the pulse of the nation in crisis. Look at what Mary McAleese did for peace in our time. I do hope that discerning instinct is maintained in this era of social media news and fake news!
Is Mise,
Gerry Molumby
~~~~~~~~~~~~~~
Vince has the Power and he gave Liverpool his finest hour.
I have known  from  personal experience the contribution Vince  Power has made to culture in Britain. I regularly attended the Mean Fiddler in Harlesden to see Christy Moore and The Dubliners and his fleadh's at Finsbury Park. He has gone on to be central in the great festivals of Glastonbury,  and  Reading. One of the stars Imelda May told the audience " Vince booked me when nobody else would, gave me good food…and money " and she acclaimed him for what he has done for musical culture in UK.
I am going to let my pictures tell the story of
IN PICTURES 
Opening Act but future headliner….Great band to beat the band !. Clare Sands from Co.Cork.

Dubliner Legends on main stage 
Finbar in full audience Furey
Two local dance school and Ceili Band entertained on stage 3
Local lad Nathan Carter
Chieftains and guests
Foy Vance fine tunes his sound check
Irish girls know how to party !
Van the man!
Finbar Furey made a point to come and watch and support Damien Dempsey 
Imelda engaged greatly with the audience.
Damien
Vince mingling with the audience
Shane Mac Gowen led the rousing finale 
~~~~~~~~~~~~~~~~~~
The Irish Times heralds people to  Northampton, in its Bloomsday 2018 edition

.
Cormac Molumby Photographer 
As  you may know An Irishman's Diary is one of the most popular features in the Irish Times – print and on line . On Bloomsday June 16th it said  "So for an hour at least, Lucia Joyce will be surrounded by her father's people, although her permanent neighbours in Kingsthorpe Cemetery also include the Irish writer Donall  MacAmhlaigh and Violet Gibson , a Dubliner who shared her incarceration for a time in St. Andrew's  Psychiatric Hospital ,after an attempt to shoot Benito Mussolini"
Peter Mulligan (Organisor ) introducing the event 
An appreciative audience enjoyed what Ruaidhri Dowling (Irish Embassy ) called "An impressive performance of a new play 'Letters to Lucia' "

In the unique setting of the cemetery where Lucia is buried, her friends and family express thoughts and feelings they perhaps wished they could have articulated during Lucia's lifetime, but for various reasons did not.
From an original idea by Richard Rose, the drama was developed in collaboration with playwright James Vollmar and the Triskellion  Irish Theatre Company. Cast of James Joyce, Nora Barnacle, Samuel Beckett, Frank Budgen, and Kathleen Neel.

Edna O'Brien writes Bloomsday Greeting
~~~~~~~~~~~~~~~~~~~
A history of the Irish Dancing 'at home ' and in the clubs of Emigrant London . (free to read on line) 
Maurice O'Connell Irish Dance History in London . Gerry Molumby
London Irish Dancer Maurice O'Connell's Ireland and World Champion  medals .
Different days…. but he was the Michael Flatley of his time worldwide .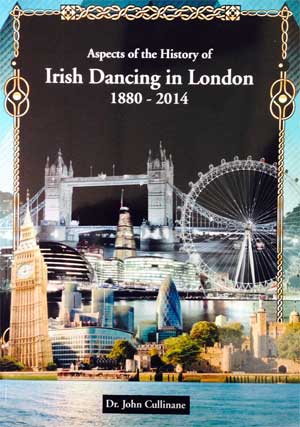 Patrick O'Connell OBE (son of Maurice O'Connell) with  John Cullinane,an authority on Irish Dancing 'at home and abroad'  attended  the  Worldwide Irish  Dancing Championship's reception, Embassy of Ireland , London 2012.
~~~~~~~~~~~~
Gerry Molumby's picture wins place in New York  photographic exhibition
Aptly titled Give me your poor, your tired, your huddled masses , the picture was taken in  August 2012  while Gerry  and family visited New York on route to stay with his brother John ,permanently living in California.
The exhibition will be hosted by Aisling Irish Community and Cultural Centre (990 McLean Ave, Yonkers, NY 1070). Out of nearly 1000 submissions , the exhibition will host 50, there will be a further 12 finalists to be included in their 2018 calendar. The only thing that 'gives the picture away' from being circa 1890 are the modern day cranes in the centre.
Gerry said " having just seen some of the other exhibition pictures there is an obvious high standard. Like most people I take scenic pictures but that day in New York harbour this sailing tourist ship came into view and I was reminded of all the Irish Emigrants who entered USA via  Ellis Island. The narrative by Emma Lazarus came to mind "
Give me your tired, your poor,
Your huddled masses yearning to breathe free,
The wretched refuse of your teeming shore.
Send these, the homeless, tempest-tost to me,
I lift my lamp beside the golden door!
"Then I knew I did not just  have a picture ,but a story "
~~~~~~~~~~~~~
Your Irish Passport is a work of art, let's look at it again.
~ and a Lancashire born Irish poet chosen to have her verse included …. ~
Story and pictures Gerry Molumby
At the Global Irish Civic Forum in  Dublin (May  2017) there was a wonderful presentation on the work that went in to the renewal of the Irish Passport , incorporating  the latest  security technology, but also making it  a piece of Irish art. So from notes and further research I have been on a voyage of discovery….come along with me. The first thing you will notice are the illustrations of Gaelic Sports and Music along with landmarks such as Croagh Patrick, Kylemore Abbey, Croke Park, the Cliffs of Moher and my native Rock of Cashel, which adorn the pages with the Brian Buru harp being the rightly expected watermark on each page.
Picture 1: Brian Buru harp being the rightly expected watermark on each page.
At the conference I was alerted to the inclusion, throughout the pages, to the full music score of Amhrán na bhFiann, the full text of Article 2 of the Irish Constitution, which appears alternately in Irish and in English.
It is the entitlement and birthright of every person born in the island of Ireland, which includes its islands and seas, to be part of the Irish Nation. That is also the entitlement of all persons otherwise qualified in accordance with law to be citizens of Ireland. Furthermore, the Irish nation cherishes its special affinity with people of Irish ancestry living abroad who share its cultural identity and heritage.
The written and spoken word is fully included with verses by William Butler Yeats and James Orr and Nuala Ní Dhomhnaíll.   Born in Lancashire, England in 1952, of Irish parents, Nuala moved to Ireland at the age of five, and was brought up in the Dingle Gaeltacht and in Nenagh, County Tipperary. A couple of Ní Dhomhnaíll's lines written in Irish on page six are  –  Labhrann gach cuinne den leathinis seo liom ina teanga feinig, teanga a thuigim  – loosely translated and with a nod towards the Irish abroad to mean –  every corner of the land speaks to us.
Dedicated to the Irish language Nuala writes poetry exclusively in Irish and is quoted as saying "Irish is a language of beauty, historical significance, ancient roots and an immense propensity for poetic expression through its everyday use", she currently lives near Dublin with her husband and four children and is a regular broadcaster on Irish radio and television.
Picture 2:On left the  Verse by Nuala Ní Dhomhnaíll. Note the Bird Knot, (centre of left page) the intricate nature of these original designs makes replication very difficult. Note the seed in the bird's beak to represent the 'scattering' of the Irish Abroad and part of the score from the national anthem on top left of each page in the passport.
Picture 3. The River Gods as seen under the Liffey Bridge are seen in all their glory when you bend two pages into each other.
Note also the Ogham characters (on lower left of the picture above) are printed in thermo-chromic ink, i.e. the colour of the character changes when heat is applied. The individual Ogham character and a hand drawn trace of a tree leaf, also lights up under ultra-violet inspection. Printed with shifting ink Spark technology, the image shimmers in the light. This is the first time this technology was used on an international travel document.
Ogham is an Early Medieval alphabet used to write the early Irish language. There are a number of surviving orthodox inscriptions on stone monuments throughout Ireland, mostly in southern Munster.
Picture 5. Newgrange Entrance Stone image. Again this is printed with shifting ink Spark technology behind the front page and as  with the Ogham the image shimmers in the light.
"Be advised, my passport's green" Seamus Heaney
~~~~~~~~~
What is the best piece of Irish Music ?
For me it is Eleanor Plunkett, by composer Turlough O'Carolan (1670–1738).
Here are my favourite versions ;
Car park acoustics!
The Master himself
 
fmolumby@aol.com
~~~~~~~~~~~~~~~~~~~~~~~~
Following on from the Global Irish Civic Forum held at Dublin Castle in May…the Global Irish Diaspora Directory ….is now available in furthering the links that bind us together. A good piece of work by and from the Irish Government Foreign Affairs and Trade Secretariat.

~~~~~~~~~~~~~~~~~
Thomas Moore the bard of Ireland……….but , " in a village of England your bones should have rest"
In a recent edition of the Irish World I read of the revived interest by Eleanor Mc Evoy on the works of Thomas Moore.
What readers may not know is that he joins the band of famous Irish people buried in the UK. His  wife wanted him buried with his two children in the  family vault in Bromham, Wiltshire.
The British Poet Laureate John Betjeman called him " dear bard of my boyhood", he was mine also as my dad used sing his songs and I became ' a ministral boy'.
" In the churchyard of Bromham the yews intertwine
O'er smooth granite cross of a Celtic design,
Looking quite our of place in surroundings like these
In a corner of Wilts' twixt the chalk and the cheese.
I can but account you neglected and poor,
Dear bard of my boyhood, mellifluous Moore,
That far from the land which of all you loved best
In a village of England our bones should have rest .
Other famous Irish Abroad include George Bernard Shaw (Ayot St Lawrence, nr Welwyn), Percy French (Formby 'across the mersey)  and Sean O' Casey (Golders Green)
~~~~~~~~~~~~