Leeds Irish Health and Homes @ 25
The following is the feature I wrote for the Irish Post on the occasion of LIHH 25th anniversary and launch of new website and logo.
Leeds Irish Health and Homes reflect on 25 years of service but with clear vision for the future.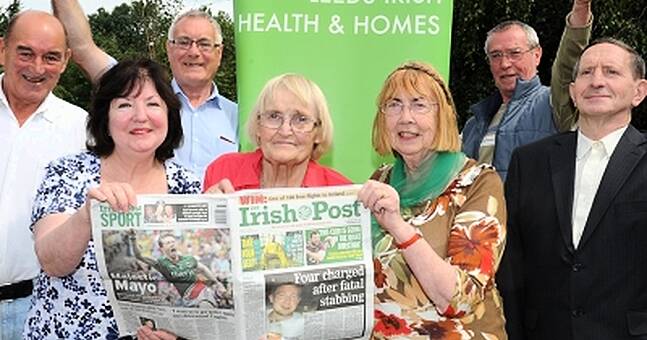 ~~~~~~~~~~~~~~~~~~~~~~~~

letters to Lucia published
NEW PUBLICATION:
LETTERS TO LUCIA
An entertainment
by Richard Rose and James Vollmar
With a foreword by Senator David Norris, Seanad Éireann
Lucia Anna Joyce, only daughter of renowned Irish author James Joyce, died in 1982 in St Andrew's Hospital Northampton.
Every year on Bloomsday, June 16th, her grave in Kingsthorpe Cemetery is the focus for Joyce enthusiasts from Northampton and further afield to gather and celebrate Lucia's life and to share readings from her father's work. Celebrants and attendees over the years have included hospital staff who knew Lucia, Joyce's biographer Gordon Bowker, Sean Cannon from the Dubliners, representatives of the Irish Embassy in London and members of the Triskellion Irish Theatre Company, based in Nottingham.
In 2018 local writers Richard Rose and James Vollmar decided to enhance the usual readings with a short play called Letters to Lucia structured around fictional letters to Lucia from key personalities who knew her, including her father and mother, the playwright Samuel Beckett and Kathleen Neel who had performed with Lucia in a Paris dance troupe. Frank Budgen, artist and writer and close confidante of the Joyce family, acted as narrator.  Members of Triskellion Irish Theatre Company performed the play in costume and incidental music was provided by Irish Champion Piper  Colin O'Loughlin on the Uillean pipes.
Now Triskellion Publications give readers the opportunity to own a copy of this unique playscript with additional material by the writers detailing the genesis of the project and a rare interview with Sheila George, an occupational therapist who worked with Lucia at St Andrew's.
The book has a forward by noted Joyce scholar and Senator in the Irish Parliament David Norris.
For Joyce enthusiasts and those who would like to know more about this extraordinary family and its links to Dublin, Paris, Zurich, Trieste and Northampton Letters to Lucia represents a valuable addition to existing Joycean commentary from a unique angle. For theatre companies it provides a text for performance and an opportunity to share this work with their audiences far and wide.
Letters to Lucia is available  from me fmolumby@aol.com
£8 including packaging and postage
Irish Post review of Letters to Lucia
Gerry Molumby reflects on 25 years promoting Irish Arts in Britain with Triskellion Theatre Company
When asked to look back on 25 years of Triskellion plays, concerts and cabaret I was pleased that, as a keen photographer, I had archived some pictures which helped to resurrect good memories over those many years. So in the past few months I have created the  profile , which can be read/downloaded below :
Ministerial Approval, Ciarán Cannon Irish Minister for the Diaspora receiving his copy at Leeds Irish Centre . He was there as part of his worldwide visits to the Irish Diaspora in shaping the Government's long term engagement policy 
Triskellion Irish Theatre and Concert Productions 1994 ~2019.pub1
~~~~~~~~~~~~~~~~~~~~~~~~~~~~~~~~~
Maurice O'Connell Irish Dance History in London . Gerry Molumby
Who is the Croke of the park and cathedral and diocese  ?
Who is the Croke of Croke Park and how he has left ' selfie' on his cathedral . Gerry Molumby 2017
~~~~~~~~~~~~~~~~~~~~~~
Tipperary surgeon , doctor Gerry O'Donoghue is giving patients their voice back with pioneering hearing implants.
gerry-odonoghue-tipperary-star
My Day at home with George Bernard Shaw.
at-home-with-george-bernard-shaw-gerry-molumby-october-2016
~~~~~~~~~~~~~~~~~~~~~
From Waterford to Leicestershire permanently .
From Waterford to Leicestershire permanently by Gerry Molumby
From Templemore to a place in World War 1 history. 
Fr. Gleeson as painted by Fortunina Matania . Part of Irish men in World War 1 Museum of Ireland 2009  . Picture Gerry Molumby
From Templemore to a place in World War 1 history
From Templemore to a place in World War 1 history
~~~~~~~~~~~~~~~~~
Angela's Ashes a Musical – and it works . Gerry Molumby
Angela's Ashes a Musical – and it works . Gerry Molumby
~~~~~~~~~~~~~~~~~~~
It's a long way to Tipperary' The world's most famous marching song was composed in a pub in Balsall Common, Warwickshire, in the British midlands. Gerry Molumby
~~~~~~~~~~~~~~~~~~~~
Has it held the warm June weather original
 ~~~~~~~~~~~~~~~~~~~~~~~
The First Rose of Summer – Gerry Molumby September 2015
 Joe , Kathleen and John Fitzgerald Kennedy in London 1939